The Rams' bye week comes at an optimal time, exactly halfway through the 2019 season. In the second of a three-part series this week, theRams.com takes a look at Pro Football Focus' top evaluations of Los Angeles' defense through the first eight games.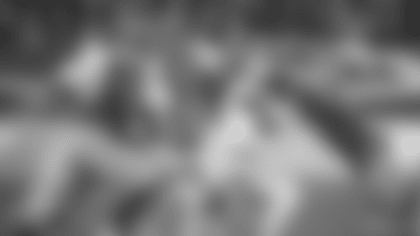 Best overall grades: Defense (82.9, fifth), run defense (80.5, seventh), pass rush (82.9, third), coverage (76.9, seventh).
L.A.'s defense places in the top 10 in four of PFF's five evaluated categories.
So far, its best game has been against the 49ers, when its run defense graded out with an 85.8 versus a Niners offense that entered with the No. 1 rushing attack in the NFL.
Like the offense, it has had its best overall performances of the season in the last two weeks: A 79.8 against the Falcons in Week 7, followed by a 78.2 against the Bengals in Week 8.
Additionally, L.A. has a top-three pass rush in the eyes of PFF while facing three of the scouting service's top 10 offensive lines so far this season: the Saints (third), the 49ers (sixth) and the Buccaneers (eighth).
Top-graded individual performances
DT Aaron Donald: vs. San Francisco, 91.7 overall defensive grade and 92.5 pass rush grade. Donald generated six total pressures, including a season-high two sacks, in this game, adding two QB hits and two QB hurries.
CB Jalen Ramsey: vs. Cincinnati, 74.8 coverage grade. Ramsey has only been with the Rams for two games, so it's a smaller sample size compared to the rest of his teammates. However, it was an improvement over his coverage grade against the Falcons the week before, which likely suggests his increased comfort in the Rams' defense as time as gone on.
Safety Eric Weddle: vs. San Francisco, 78.9 overall defensive grade and 73.3 coverage grade. The numbers were close between this game and the season opener at Carolina, but like Donald, playing a division rival seemed to bring out the best in Weddle. His overall defensive grade against the Niners was his highest this season, while the coverage grade was second-highest to his 74.4 against the Panthers in Week 1.
LB Cory Littleton: at Carolina, 94.3 overall defensive grade, 83.5 tackling grade, 82.7 pass rush grade and 94.1 pass rush grade. Those marks were strong enough to land him a spot on the scouting service's Team of the Week for Week 1. He's continued to play at a high level ever since, too – his overall defensive grade ranks in the top 10 at his position, his pass rush grade top 15 and his coverage grade top three among the 151 linebackers evaluated through Week 8.
CB Troy Hill: vs. Cincinnati, 85.5 overall defensive grade, 78.9 tackling grade, 88.4 coverage grade. All are single-game bests this season. His coverage grade was fifth-best among the 117 players at his position evaluated by PFF. Hill has also posted a tackling grade higher than 77 since entering the starting lineup in Week 6.
LB Dante Fowler: at Atlanta, 90.6 overall defensive grade, 90.9 pass rush grade. Unsurprisingly, Fowler's first three-sack game of his career produced his highest overall defensive grade and best pass rush grade of the season. In addition to the three sacks, Fowler also had one QB hit and three QB hurries for seven total pressures against the Falcons, tied with the Cleveland game for second most for him in a single game this season.
LB Samson Ebukam: vs. San Francisco, 87.8 run defense grade. Like Donald and Weddle, Ebukam scored well against a divisional rival, posting his best game against the run Week 6 against the 49ers.
DE Michael Brockers: at Seattle, 81.5 overall defensive grade and 79.8 run defense grade. Continuing the trend of the NFC West producing top performances for Rams defensive players, those grades were highest and second-highest in their respective categories for Brockers this season.
CB Nickell Robey-Coleman: at Seattle, 78.4 coverage grade. Robey-Coleman has graded out at 78 or better in this category in each of the Rams' first two NFC West games. He was targeted twice against the Seahawks by QB Russell Wilson, allowing just one catch for seven yards.
DT Sebastian Joseph-Day: vs. San Francisco, 85.1 overall defensive grade and 79.9 run defense grade. The common theme continues, as Joseph-Day's best game overall and against the run came against an NFC West foe.
Safety Taylor Rapp: vs. Cincinnati, 76.6 run defense grade and 83.2 tackling grade. Playing a season-high 80 snaps, Rapp logged his best game against the run and second-best tackling performance in 2019. His tackling grade of 79.4 on the season ranks fourth on the team.