Following each practice, Quotes and Notes will bring you what was said, who said it, and what it means for your Los Angeles Rams.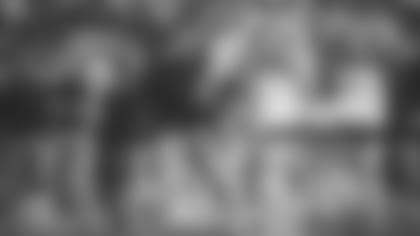 "He's a guy who is only going to continue to get better." -HC SEAN McVAY
Second-year outside linebacker Samson Ebukam played the game of his young career on Monday night against the Chiefs, and head coach Sean McVay believes he will only get better.
The Eastern Washington product scored two defensive touchdowns against the Chiefs and according to ESPN Stats & Info, is the first player with a sack, interception and multiple touchdowns in a single game since sacks became official in 1982.
Ebukam finished Week 11 with three tackles, 1.0 sack, two QB hits, one INT return TD, and one fumble returned for TD.
"I think you know me well enough — I was pretty wired." -HC SEAN McVAY
McVay admitted he had a tough time winding down from last night's electric game against Kansas City.
The Rams and Chiefs scored 105 total points and combined for 1,001 total yards on Monday Night Football, in a game that featured seven lead changes and two ties. There were four lead changes in the game's final quarter.
McVay added he was looking forward to a nap after he finished with the conference call.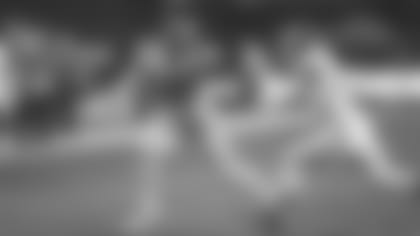 "He did get rolled up on on that far sideline — his ankle a little bit — but it's something that bothered him for sure." -HC SEAN McVAY
Running back Todd Gurley did not seem himself at certain points throughout Monday's game, and McVay confirmed on Tuesday afternoon that Gurley did get a little banged up on a play in the game's first quarter.
McVay quickly clarified that the ankle tweak is something that won't keep his star running back off of the field.
The head coach said that at times the flow of the game kept Gurley on the sidelines, and that the Chiefs were heavily preparing for Gurley's league-leading rushing attack.
Gurley's 55 yards rushing against the Chiefs is his second-lowest total of the season. No. 30 also failed to score a touchdown Week 11 — snapping his streak of 13-consecutive regular season games with a touchdown, which is a franchise record.
"I think he's truly taken his game to another level." -HC SEAN McVAY
McVay said on Tuesday that defensive tackle Aaron Donald is better than ever.
Specifically, McVay mentioned Donald's focus on improving each and every year, and No. 99's ability to lead by example as to what makes his defensive tackle great, adding that Donald makes so many great plays, that it is important not to take them for granted.
Donald had two strip-sacks against quarterback Patrick Mahomes and the Chiefs. The league-leader in sacks boast 14.5 through 11 games, which is the most by a defensive tackle since 1992.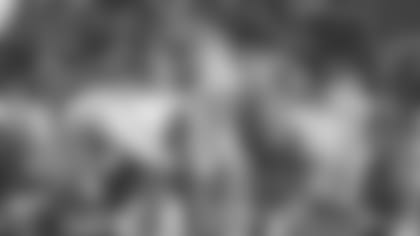 "I wouldn't be upset if the Panthers came away with a win this weekend." -HC SEAN McVAY
If the Panthers defeat the Seahawks in Week 12, the Los Angeles Rams win the NFC West for the second-straight season.
The Rams were overwhelming favorites to repeat as NFC West champions entering 2018 and haven't looked back. L.A. is undefeated against the division and has outscored its divisional foes 142-72 in four games (two against Seattle).
McVay said on Tuesday that he looks forward to watching football as a fan this weekend during the team's bye.
The Rams haven't won its division in back-to-back seasons since 1978 and 1979.