Following each media session, Quotes and Notes will bring you what was said, who said it, and what it means for your Los Angeles Rams.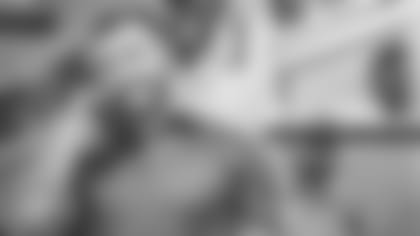 "The entire intention as we prepared for this draft was, if we could get as many shots at the basket as possible in this top-100, we felt like it would benefit the Rams not only in the short term, but in the long term as well."
-GM LES SNEAD
The Rams took a while to make their first pick in the 2019 NFL Draft, but at No. 61 it finally came. The Rams drafted safety Taylor Rapp out of the University of Washington after making the first two of their four total trades on Friday night. 
General manager Les Snead said trading for an influx of picks was a goal for the Rams entering the draft. They came away with four picks in the top-100 and are slated to make four more picks on Saturday (No. 162, No. 167, No. 169, No. 251).
"We identified him as a guy that has a specific skill set that really can do some unique things for us offensively."
-HC SEAN McVAY
In a relatively unexpected move, the Rams took running back Darrell Henderson out of the University of Memphis at No. 70.
Snead and head coach Sean McVay compared their new running back to former Rams and Cowboys running back Lance Dunbar and his ability to be a change of pace at the position.
Running backs coach Skip Peete told theRams.com that running back Todd Gurley was excited to learn about his newest running mate, and had plans to call the former Memphis Tiger and welcome him to L.A.
"I'm going to come in and work hard and give it all I've got, and make sure that I'm on the 53-man roster and do what it takes to help this team keep winning. We're going to do something special in L.A."
-RB DARRELL HENDERSON
Henderson sounded ready to battle for a spot on the 53-man roster among a crowded running backs room, which features recently re-signed Malcolm Brown, Justin Davis, and 2018's draft pick John Kelly, in addition to Gurley.
The first unanimous First Team All-American in Memphis history, Henderson finished his collegiate career with 431 carries for 3,545 yards 36 touchdowns, averaging 8.2 yards per carry. He grabbed eight touchdowns in 38 games played for the Tigers.
McVay said his staff will continue to evaluate what type of support he will provide for Gurley in 2019.
"I fell in love."
-OL BOBBY EVANS
The Rams' final pick of the night at No. 97 overall replied with four strong words when asked about his impression of the Rams on his pre-draft visit to team's facility in Thousand Oaks, Calif.
Evans' addition was described as a depth piece that could be cross trained to play anywhere under run game coordinator and offensive line coach Aaron Kromer.
The former Oklahoma Sooner split time between left and right guard protecting both No. 1-pick quarterbacks Baker Mayfield and Kyler Murray.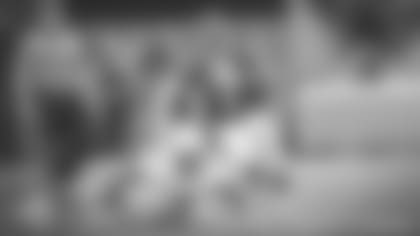 "A lot of the things that you love so much about Eric and J.J., we feel like Taylor has a lot of those similar traits and characteristic."
-HC SEAN McVAY
McVay and Snead were perhaps most enthused with their second-round selection — the general manager saying they thought they might miss out on Rapp — one of his favorite players in the draft, and McVay comparing the young safety to both safeties Eric Weddle and John Johnson.
"To come in there and learn under them – it's an incredible opportunity and I think it's the perfect scenario for me," Rapp told the Los Angeles media on Friday night. "I couldn't ask for anything better."
In his final season at Washington, Rapp recorded seven interceptions, 14 passes defensed, 7.0 sacks, plus a pair of forced fumbles.
"To be able to pick up from those guys and do whatever they've been doing to stay in the league... a lot of those guys have had successful careers."
-CB DAVID LONG
The Rams newest cornerback looks forward to learning under former All-Pro corners Aqib Talib and Marcus Peters in his first season as a professional.
Long was a two-year starter at the University of Michigan and recorded 17 passes defensed, three interceptions, and 38 tackles in his time as a Wolverine.
McVay cited Long's production in his brief time in the Michigan defense as a positive. And it's a pick that could age well for the Rams, who face the chance of losing both Talib and Peters when their deals are up after the 2019 campaign.