Following each practice, Quotes and Notes will bring you what was said, who said it, and what it means for your Los Angeles Rams.
"Yeah, it was much better energy today. I think really, coming off of that trip from Baltimore, but then today these guys came out, they had a great walk-thru – good, locked in, in focus and concentration. Then, I thought there was good energy throughout. There's a lot of things that we could certainly clean up, but I thought just the overall energy, the ability to communicate, just the way that we came out and competed was much better. That's a credit to the players. They did a good job today." -HEAD COACH SEAN McVAY
Head coach Sean McVay was happy with how his team responded to a lackluster practice on Saturday.
Practice on Sunday once again seemed largely focused on individual position work and competition between top units on offense and defense.
Overall, Sunday's energy seemed up to par — most noticeably in the defensive secondary.
"I think Coach [Sean McVay] looked at it from a standpoint of honestly we were in Baltimore, we had two good days, played a game that we weren't really happy with — needed to learn some things altogether, from the first group to second group — came back to yesterday's practice and started slow, which is unacceptable. I think from an overall veteran stand point, myself included, we have to set the tempo. I think we did a fairly good job of that today, we've got to go back and watch the tape tonight and we will see if that's true or not." -DT NDAMUKONG SUH
Head coach Sean McVay was less than pleased with his team's energy in Saturday's first practice returning from Baltimore. Following yesterday's practice, McVay and a few veteran leaders addressed the team for a longer edition of the post-practice huddle.
Veteran defensive tackle Ndamukong Suh was optimistic about the team's energy following Sunday's practice. Suh also claimed that as one of the most experienced members of the team, he is responsible for ensuring practices meet McVay's expectations.
Suh is entering his ninth season in the NFL.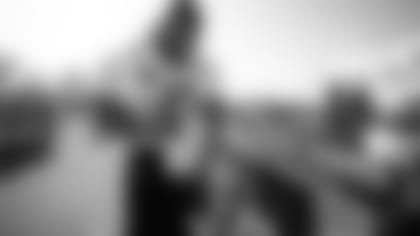 "When you've got the right guys in those key spots that can influence and affect the locker room in the right way, you know you're in good hands. We've got a handful of guys that are veterans, but then also some younger guys that are stepping into some leadership roles as they've continued to accumulate some experience." -HEAD COACH SEAN McVAY
McVay talked about the importance of player leadership after Sunday's practice, specifically from the veterans on his roster.
The Rams' relatively young roster is highlighted with young stars in quarterback Jared Goff, running back Todd Gurley, and corner Marcus Peters.
One of the most tenured Rams, offensive lineman Andrew Whitworth was one of the players who spoke after Saturday's underwhelming practice. Defensive tackle Ndamukong Suh and corner Aqib Talib should add veteran experience to the defense this season.
"I've had fun just getting to know these guys and just kind of picking their brain from an offensive standpoint to kind of see what they're thinking. You feel like they're going to make you better just being around guys like that. They've certainly got some swagger and confidence and they're fun to be around as well." -HEAD COACH SEAN McVAY
McVay expressed that his corners Talib and Peters have been more than a headache on defense for his offense.
The elite pair of corners challenging McVay's offensive mind has been noticeable throughout camp. Goff and the offense seem to be hitting their stride as camp goes on, connecting on more and more passes.
McVay vs. Talib and Peters has been one of the most exciting matchups of the summer.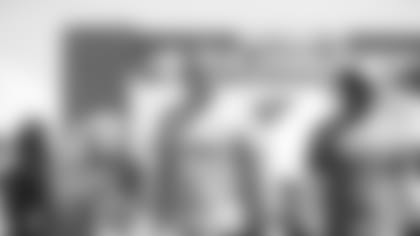 "I think it's a good thing. We're going to get 'good on good' work and I think it's an opportunity for us to continue to push each other, because when we get in season we're going scout cards all the time, every single day. I think early in the year, when I've been on other teams we've done some team-run action, ones on ones — but it's very few and far between." -DT NDAMUKONG SUH
The Rams' fruitful offseason provides the chance for competitive practices in training camp.
On Monday, Suh talked about how beneficial practices are with the offensive and defensive "ones" matching up in Irvine.
In Monday's ones-versus-ones, corner Nickell Robey-Coleman made a few nice plays, which included picking off quarterback Jared Goff in a 7-on-7 drill.