Following each practice, Quotes and Notes will bring you what was said, who said it, and what it means for your Los Angeles Rams.
"We were talking about that last night. We were like, 'Literally if AD was here, like he would eff up the whole practice.' Because it's like, you get the handoff and he's like right there. So, a guy like that you have to sit him back and tell him to tone it down a little bit just so you can get some good reps." -RB TODD GURLEY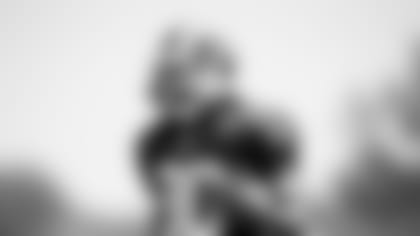 Running back Todd Gurley was one of several veteran Rams who were given Monday's practice off.
Gurley said that defensive end Aaron Donald's absence from practice can be viewed as a blessing in disguise, enabling the offense to "get good reps".
Whether Gurley is being completely facetious or not, Donald joining Ndamukong Suh and Michael Brockers on the defensive line should make running plays difficult on any offense — and generate competitive practice reps.
"Once Week 1 comes around, you don't have any choice but to be ready." -RB TODD GURLEY
Nearly every projected starter did not play a snap in preseason Week 1 against the Ravens.
When asked if he would be prepared for the regular season, despite possibly resting most of the preseason, Gurley said he has to be.
The Rams open the 2018 season in just under one month, on Sept. 10 in Oakland on Monday Night Football.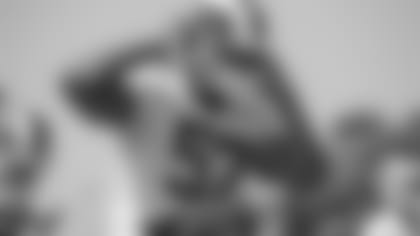 "It's going good. Learning a lot, getting the chance to work with Brock [defensive lineman Michael Brockers] and [defensive tackle Ndamukong] Suh, with [defensive lineman] Ethan Westbrooks, a lot of those guys — they have so much to teach you and you can learn so much from those guys. That's what I'm in the process of doing each and every day." -DL JOHN FRANKLIN-MYERS
A day after McVay spoke about the importance of veteran leadership, rookie defensive lineman John Franklin-Myers spoke about cherishing his chance to learn from veterans like Suh and Brockers.
McVay has been pleased with Franklin-Myers' play. Following Monday's practice McVay complimented his rookie's ability to get in the backfield and disrupt passing plays.
Franklin-Meyers played his college football at Stephen F. Austin.
"He caught it, that was good. We were practicing before. I was trying to toss some up in the air for him. He's a good guy, got us out of here, it was good." -QB JARED GOFF
Monday's practice ended on a lighter note, after a few days of up and down energy following the team's return from Baltimore.
Rookie offensive lineman Joseph Noteboom was selected to field a punt at the end of practice. A catch meant practice was over and position-group meetings for the evening were canceled.
With the entire team looking on, Noteboom fielded the punt (barely), happiness ensued, and McVay broke the huddle.
The Rams will be back on the field Wednesday afternoon.