Following each practice, Quotes and Notes will bring you what was said, who said it, and what it means for your Los Angeles Rams.
"Get a three-and-out every time and we done." -CB MARCUS PETERS
Corner Marcus Peters provided a characteristically to-the-point answer when asked what he hopes to accomplish in what will likely be his first preseason action on Saturday.
Peters then elaborated, saying he simply hopes to "execute play calls and have fun".
Yet to play in a game for the Rams, Peters is expected make a difference in the Rams' secondary as one of the top corners in the league.
Peters leads the league with 19 regular-season interceptions since entering the league in 2015.
"These are the days where you start feeling it a lot more as you get closer and closer to the day [start of the season]." -CB MARCUS PETERS
Peters demonstrated his competitive nature on Wednesday, denying that the Rams are now in the "dog days" of training camp.
According to Peters, practices in the thick of the preseason provide the opportunity to practice with energy and practice "as a professional" — by avoiding injuries.
The Rams have not yet played many of their starters in the preseason, which Peters mentioned can be felt at times in practice, when it comes to conditioning.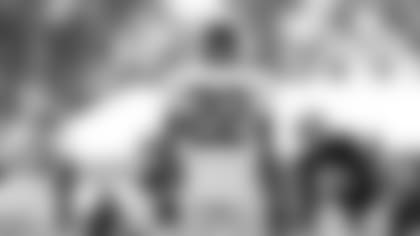 "It all comes from just trusting myself — a belief in what I see. When I know, I go, and I've been playing ball ike that for a long time. When I know I can make a play, I go for it full-speed." -CB MARCUS PETERS
On Tuesday, defensive coordinator Wade Phillips talked about an instance in Baltimore during joint practices with the Ravens, in which Peters intercepted a ball thrown to a receiver across the field from him — a receiver that Peters was not originally covering.
When asked about the play, Peters said he's always played with that instinct, and trusting teammates in those situations is key.
"As far as me, I don't know. I got a lot of interceptions." -CB AQIB TALIB
When fellow corner Aqib Talib was asked if he has ever made a play similar to Peters' pick in Baltimore, Talib said he wasn't sure and would have to check the tape of his 34 career interceptions since entering the league in 2008.
Talib called Peters' play more of an "instinct" than style.
"This game will be good for us too, just getting full speed reps with the safeties, with all of us together — with Cory [Littleton] — with everyone who has to communicate on that back end." -CB AQIB TALIB
Talib said playing in Saturday's game against the Texans will be beneficial to the Rams' newly assembled defense.
While Talib said he and Peters already have a feel for how one another play, things like crowd noise and going up against the Texans' first-team offense will help build a rapport and be a good experience for the defense.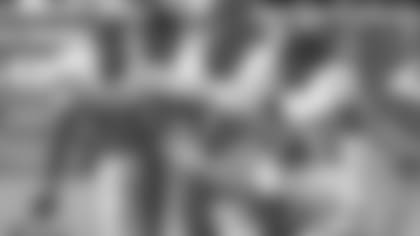 "Corey [Littleton] has been doing a great job from OTAs till now. I feel like he improved a lot, it's a new position fo him, so I think he's got it down right now." -CB AQIB TALIB
The Rams will have a new signal caller on the defensive side of the ball this season in linebacker Cory Littleton.
Talib said Littleton seems "comfortable" in his new role and that the game should be a good opportunity for Littleton get the initial shock of relaying plays to the defense on field out of the way.
Littleton was signed by the Rams as an undrafted free agent out of Washington in 2016.
"Really good football players, really impressive people too." -HEAD COACH SEAN McVAY
McVay talked once again on Wednesday about his newest defensive duo in corners Marcus Peters and Aqib Talib.
McVay said he has been impressed with how the pair has put in work both on the field and in meetings.
Finally, McVay talked about the advantage of adding Talib to his defense, saying Talib "has ownership" of defensive coordinator Wade Phillips' defensive system.
Talib played under Phillips for two years in Denver.
"Guys are doing a good job just working one day at a time and we will see how Saturday goes." -HEAD COACH SEAN McVAY
McVay said his team approaching Week 3 of the preseason with the same approach as in training camp.
McVay also said continuity on both sides of the ball and special teams will be the focus for starters playing in the first game of their preseason on Saturday.
The Rams' will take on the Texans on Saturday at the L.A. Coliseum. Kickoff is slated for 1 p.m.