Following each practice, Quotes and Notes will bring you what was said, who said it, and what it means for your Los Angeles Rams.
"Congratulations to these guys. Really excited about this group and now we got to go do it one day at a time." -HC SEAN McVAY
Head coach Sean McVay congratulated his players who made the team following the Rams first practice with a 54-man roster.
The team announced a list of nine players who will play on the team's practice squad, including quarterback Luis Perez and wide receiver KhaDarel Hodge.
McVay said he was excited get going with a his newly set roster and that he is making it a point to keep his guys fresh leading up to Monday Night Football in Oakland.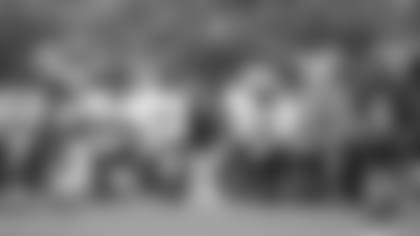 "He'll just get better and better one day at a time." -HC SEAN McVAY
McVay seemed grateful on Sunday evening to have defensive tackle Aaron Donald back on the practice field.
Donald signed his six-year (then) record breaking deal on Friday afternoon, just over a week before Monday night's game.
McVay said that he feels good that Donald is able to get about one week's worth of practice with the team in time for Week 1.
McVay, Donald, and general manager Les Snead all expressed on Friday that returning in time for Week 1 was a goal during Donald's contract negotiations.
"We'll try and continue to create ways — and even though it's a little bit more difficult when you get into the game-planning phase and stuff like that — of evaluating guys and feeling like, 'Who are the guys that will put us in position to win games moving forward?'" -HC SEAN McVAY
McVay commented on his backup quarterback situation a day after the club submitted its roster to the league.
The Rams kept three quarterbacks (Jared Goff, Sean Mannion, Brandon Allen) on the active roster, and undrafted rookie Luis Perez on the practice squad.
McVay said that he plans on continuing to monitor the backup spot going forward.
"What a great job [running backs coach] Skip's [Peete] done with that room as a whole." -HC SEAN McVAY
Reporters also raised questions regarding the Rams' four running backs who made the roster. McVay shouted out running backs coach Skip Peete for his offseason work with the backs.
McVay confirmed that he kept four running backs because he like what he saw in the preseason — especially from rookie John Kelly and second-year back Justin Davis.
While Davis missed much of the preseason with a hamstring injury, Kelly demonstrated consistent big-league ability, finishing his three-game preseason with 197 yards rushing.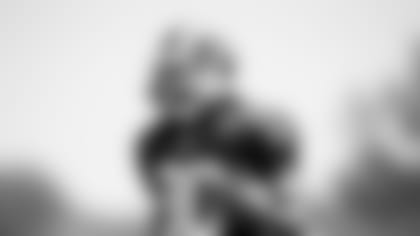 "It means a lot of us and us as a team. A lot of the guys, we came in together and — not saying we were broke — but I can sit up here and have like good conversations with four or five people who had a payday." -RB TODD GURLEY
Running back Todd Gurley also met with media on Sunday, and gave his thoughts on the Rams recent spending spree, extending his contract along with receiver Brandin Cooks, offensive lineman Rob Havenstein, and as of Friday, Aaron Donald.
Gurley, Donald, Havenstein, and Cooks are all under contract with L.A. through at least the 2022 season.
Gurley said he called family members and friends in excitement when he found out Donald was returning to the team.
"I appreciate all the fans that took me in the first round, even better No. 1 overall. I try to show them some support, and hopefully we can get the MVP for fantasy football this year." -RB TODD GURLEY
Gurley has been busy on Twitter recently, retweeting fans and fellow professional athletes who have shared Gurley as their No. 1 overall fantasy football draft pick.
The reigning NFL Offensive Player of the Year has been a popular pick at No. 1 this season, sitting atop preseason fantasy polls on CBS, ESPN, Bleacher Report, and more.