After each media session, Quotes and Notes will bring you what was said, who said it, and what it means for your Los Angeles Rams. Here's what you should know from Thursday, Aug. 8.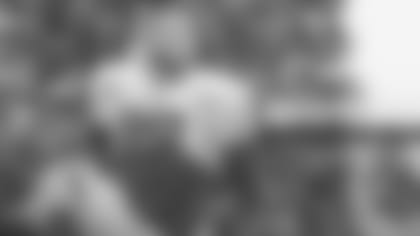 "We talk about that ownership all the time and I thought our leaders did a great job of getting everybody under control and we use that as a learning opportunity. I think we did."
– DT Aaron Donald
"What I loved was the fact that our guys were able to regather themselves, had our poise and composure about ourselves – in terms of being able to finish out practice."
– HC Sean McVay
A short skirmish broke out between the Raiders' offense and the Rams' defense during 11-on-11 work in Thursday's joint practice. 
While McVay said he wasn't sure what caused it, both he and Donald were proud of how players responded to the situation and allowed the session to continue. 
McVay also gave credit to Oakland for swiftly moving past the incident and allowing both teams to continue the joint practice, since sometimes those moments can lead to those practices getting canceled. He is correct, too – prior to his arrival, the Rams and the Dallas Cowboys had to end their final joint practice session during the 2015 preseason early due to multiple fights.
"We want that work. It's going to get you prepared for the season, so you want that work."
– CB Marcus Peters
Peters was looking forward to going up against Raiders wide receiver Antonio Brown during this week's joint practice sessions, but Brown was unable to participate because he's battling frostbitten feet according to NFL Network Insider Ian Rapoport. 
A two-time Pro-Bowler and former First-Team All-Pro selection, Peters is no stranger to embracing the challenge presented by going up against elite wide receivers like Brown. Last season, he defended four of the league's top 10 leaders in receiving yards. 
Despite Brown's absence, Peters said the Rams' defense still got in some good work with other talented receivers like Tyrell Williams available for Oakland.
"The defensive players you mentioned (LB Micah Kiser and DT Sebastian Joseph-Day), we expect those guys to play and then we're going to talk about (OL) Joseph (Noteboom) and (C) Brian (Allen)."
– HC Sean McVay
Heading into this weekend's preseason-opener against the Raiders, McVay was asked whether Kiser, Joseph-Day, Noteboom and Allen will play on Saturday.
It's an appropriate question, as all four are young players slated to be starters based on the team's unofficial depth chart and could thus benefit from the experience, according to McVay. 
McVay said he was going to speak with run game coordinator Aaron Kromer before making a decision on whether they will play Allen and Notebloom. 
If both play, McVay said it would be for just "a couple of series."
Take a look at the Rams second joint practice with the Raiders in Napa.