It is Mock Draft Monday on theRams.com, where we will be taking a look at experts' projections for who the Rams will select in the 2023 NFL Draft.
This edition comes with the 2023 league year well underway and the first wave of free agency subsiding, and continues a trend of primarily edge, offensive line and cornerback projections – positions most commonly identified by experts as areas of need for the Rams.
Here's a roundup of the latest predictions: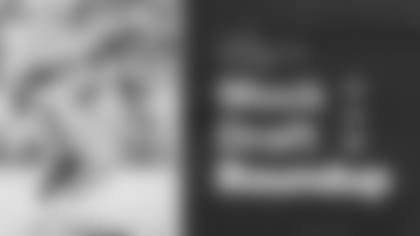 The pick(s): LSU EDGE B.J. Ojulari (Round 2, No. 36 overall, pictured above); BYU OT Blake Freeland (Round 3, No. 69 overall); Syracuse CB Garrett Williams (Round 3, No. 77 overall)
Notes: Capable of playing defensive end or outside linebacker, per his school bio, the 6-foot-3, 250-pound Ojulari had 12.5 sacks over his last two seasons.
Freeland (6-8, 302), meanwhile, was a four-year starter for BYU, doing so in 41 of 44 games played.
Williams (5-10, 192) started seven games at cornerback for the Orange prior to tearing his ACL against Notre Dame in October 2022. He still managed to finish second on the team in interceptions (2) and pass breakups (3) despite the season-ending injury.
Expert: Ian Cummings, NFL Draft analyst
The pick(s): Georgia EDGE Nolan Smith Jr. (Round 2, No. 36 overall), Mississippi State CB Emmanuel Forbes (Round 3, No. 69 overall); Washington State LB Daiyan Henley (Round 3, No. 77 overall)
Notes: Most mock drafts have Smith as a first-round prospect after an impressive performance at the NFL Scouting Combine, but if he's available at 36, he'd make a great addition to the Rams. The 6-3, 235 Smith led Georgia with a team-high 16 QB hurries and added 18 total tackles in eight starts prior to sustaining a season-ending torn pectoral muscle against Florida.
Forbes (6-1, 166) garnered Second-Team All-American honors and First-Team All-Conference recognition after posting 46 tackles, 10 pass breakups (tied for 10th in the FBS with 16 passes defensed) and a blocked kick in 12 starts for Mississippi State.
Henley (6-1, 225) made the most of his grad transfer season at Washington State, earned All-Pac-12 First-Team recognition as a linebacker and All-Pac-12 Second-Team recognition as an all-purpose/special teams player after recording 106 tackles while starting all 12 games he played in. Those 106 total tackles were second-most in the Big Ten. He is also an L.A. native who went to Crenshaw High School.
The pick(s): Georgia CB Kelee Ringo (Round 2, No. 36 overall)
Notes: The 6-2, 207 Ringo was a Second-Team All-SEC choice in 2022 following a team-high seven pass breakups, plus 42 tackles and two interceptions while starting all 15 games for the two-time reigning national champion Bulldogs.