It is Mock Draft Monday on theRams.com, where we will be taking a look at experts' projections for who the Rams will select in the 2023 NFL Draft.
With draft week just one week away, the most recent projections continue to feature EDGE options, with running back and quarterback popping up in some as well.
Here's a roundup of the latest predictions: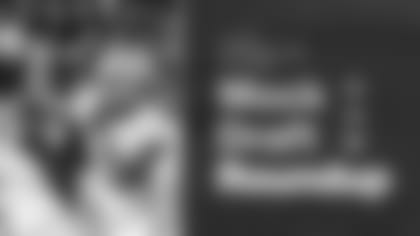 Expert: Ryan Wilson, NFL and NFL Draft writer
The pick(s): North Dakota State OL Cody Mauch (Round 2, No. 36 overall); Tennessee QB Hendon Hooker (Round 3, No. 69 overall, pictured above); Auburn EDGE Derick Hall (Round 3, No. 77 overall)
Notes: Mauch (6-foot-2, 302 pounds) started all 15 games at left tackle in each of the last two seasons for the Bison, collecting First-Team All-American honors from The Associated Press in 2022.
Quarterbacking the nation's top offense in terms of yards per game and points scored, Hooker (6-3, 217) completed 69.6% of his pass attempts for 3,135 yards with 27 touchdowns against only two interceptions in 11 starts before sustaining a season-ending torn ACL last season.
Hall (6-3, 254) led Auburn with 12 tackles for loss and 11 sacks last season to earn First-Team All-SEC recognition. He also added an interception, 60 total tackles and two forced fumbles in those 12 starts.
Expert: Dane Brugler, National NFL Writer
The pick(s): Iowa State EDGE Will McDonald IV (Round 2, No. 36 overall); Illinois S Quan Martin (Round 3, No. 69 overall), Auburn RB Tank Bigsby (Round 3, No. 77 overall)
Notes: McDonald (6-4, 239) led the Cyclones with five sacks, also chipping in 36 tackles and four pass breakups while starting all 12 games en route to Big 12 Co-Defensive Lineman of the Year recognition.
Meanwhile, media covering the Big Ten selected Martin (5-11, 194) as a Second-Team All-Conference honoree after he recorded 64 tackles, 3.0 TFLs, 1.0 sack, three interceptions, 11 pass breakups, one quarterback hurry, and two forced fumbles on the season while starting all 13 games at the star position. His school bio says he had the No. 4 tackling grade in the nation among cornerbacks (90.4), according to Pro Football Focus.
Bigsby (6-0, 210) led the Tigers in rushing for the second-straight season in 2022, posting 179 carries for 970 yards and 10 touchdowns while starting 11 of 12 games played.
Expert: Cam Mellor, Executive Editor of College Football Netwrk
The pick(s): Georgia Tech EDGE Keion White (Round 2, No. 36 overall); South Carolina CB Darius Rush (Round 3, No. 69 overall); Georgia OT Warren McClendon (Round 3, No. 77 overall)
Notes: White (6-5, 285) led the Yellow Jackets with 14 tackles for loss and 7.5 sacks last season, also making 54 total tackles in 12 starts.
Rush (6-2, 198) had 38 tackles, two interceptions and seven pass breakups while starting 9 of 10 games played as he dealt with a hamstring injury.
McClendon (6-4, 306) was an All-SEC First-Team selection by conference coaches in 2022 for his performance starting all 14 games at right tackle for the Bulldogs.