As the son of a son of an NFL coach, Chris Shula has been around the league his entire life.
Recently named by first-year Los Angeles Rams head coach and college [Miami, Ohio] teammate Sean McVay as the assistant linebackers coach, Chris is a part of just two three-generation coaching families in NFL history.
His dad, Dave, was the head coach of the Cincinnati Bengals [1992-96] for five seasons following 10 years as an assistant coach with the Miami Dolphins and Dallas Cowboys.
And his grandfather, Don, was a head coach for 33 seasons with the Baltimore Colts [1963-69] and Miami Dolphins [1970-95]. The winningest coach in NFL history, the NFL Legend was enshrined into the Pro Football Hall of Fame in 1997.
That said, it isn't a surprise that Chris would follow in his dad and grandpa's footsteps.
"I think I always knew. Right when I got out of college, I got an opportunity to go to the University of Oklahoma," Chris said. "I think it was the first game day there. I was in development, fund-raising, and I'm wearing a suit in the suite boxes. At kickoff, I'm shaking hands and doing whatever and it didn't feel right. I finished out the year with the program, but I knew right there that I was going to get into coaching.
"I was a smart player, a coach-on-the-field-type of guy. People in college said, 'You're going to be a coach.' I never thought that was just because of my last name. I never really felt [any pressure being a Shula] just because I put a lot of pressure on myself just to be prepared for meetings and get the guys ready and everything."
"I could tell (he'd get into coaching) when he was growing up," Dave said. "He always asked a lot of questions. He wanted to understand the whys and the how comes. He loved going to practice. He loved preparing on his own. When there weren't organized activities, he would always grab me and want to either work out or work on techniques and things. So, it didn't surprise me at all when he showed an interest in coaching."
Don could have said the same thing about his son. "Yeah, I was the same way," Dave said. "Just loved being around, loved when I was a little guy and he'd bring me over to the Dolphins training camp. Or the Colts training camp before that. I did the same thing. [My wife, Leslie, and I] have three sons, Chris and his brothers (Dan, a college assistant coach most recently at Florida Atlantic, and Matt, who works in the Dolphins' video department), and we'd bring them up to Cincinnati and they'd spend a couple weekends with me at training camp and they just loved it."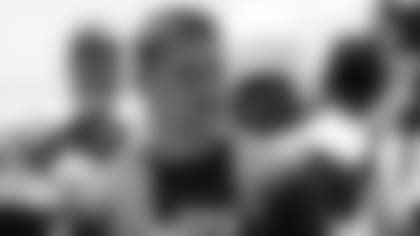 By having a dad and grandpa who have been there and done that, Chris– who spent the last two seasons as the defensive quality control coach for the San Diego Chargers – has the opportunity to easily ask for priceless advice.
"My dad is big on just do the best job, be an expert at your position," Chris said. "As far as being the assistant linebackers coach, know every single thing. Know my key reads, every single thing possible to make our players better. Work hard every single day. Be humble. Be positive no matter what. After a loss, be able to bounce back and deal with adversity.
"It really is awesome to have a resource like that. Even when times are rough, to be able to call and get advice from someone who has been through a lot of the same things. And whether he would deal with it differently or not, to be able to just to use him as a sounding board has been unbelievable.
"(My Grandpa is) very excited for me. My dad kind of learned everything from my grandpa, so it's kind of funny hearing them both give me advice."
Another person Chris will be getting advice from is Rams defensive coordinator Wade Phillips, who happens to be a part of the other three-generation coaching families in NFL history. His dad, Bum, was a head coach for 11 seasons with the Houston Oilers [1975-80] and New Orleans Saints [1981-85]. And his son, Wes, is the tight ends coach for the Washington Redskins.
"I was really super excited to hear that Sean was able to bring Wade on for a lot of reasons," Dave said. "Especially, selfishly speaking, that Chris will be able to be mentored by a guy like Wade. I've known him for many years and have tremendous respect for him and what he's done in his career and the kind of person he is. The teacher that he is and the way he goes about coaching the game. I'm thrilled that Chris is going to have the opportunity to be with him."
"My dad never coached with him," Chris said, "but they had obviously gone against him and just everything you hear from my dad and my grandfather about the type of person he is... My dad said, 'I've never heard one bad thing about Wade Phillips.' And he had a chance to know Bum too, who I've heard a bunch of stories about him being a great guy and a great coach. It's really just an honor to coach with a guy like Wade Phillips. I almost have to pinch myself sometimes when I'm sitting right next to him in staff meetings."