As part of the Rams' celebration of Black History Month this month, the organization wants to inspire Angelenos through stories of its staff and their amazing accomplishments.
Up first is Community Affairs and Engagement Intern Noel Grigsby Jr.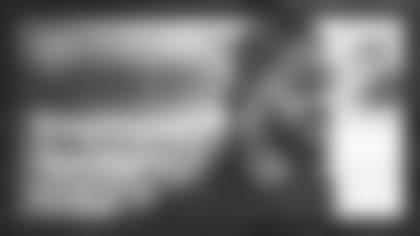 Noel Grigsby Jr.'s foundation is rooted in his parents, his faith and his family. Growing up the son of a pastor, the importance of outreach and service was instilled in him early. As a former college player, he also leans on knowing that everyone on a team has a role, and the value of being number one in your role for the betterment of the group.
Those same principles guide him today as he works in the community with the Rams' Community Affairs and Engagement team.
"Within the Rams organization, the community team has been awesome," Grigsby said. "Led by Molly Higgins, the team of Zach Kinkeade, David Weingarten, Johnathan Franklin, Alex Floch, Maria Camacho, Karissa Davis, Keely Fimbres, Sarah Woebkenberg, Chase Isaacs, and Tatum Texada have all assisted me in various ways. It's refreshing to work with great people who genuinely care about you and go out of their way to help you grow.
"I work the most with Johnathan Franklin, the Director of Social Justice and Football Development. We played football against each other in high school and college but now work together on the same team to create change. Also, Director of Player Affairs Jacques McClendon makes time each week to meet and layout other areas within the Rams organization. They have both been great mentors."
Grigsby has been in his role for six months and works alongside those counterparts to help provide access and opportunity for all. They focus on building sustainable relationships and partnerships with community members and community organizations.
"Community engagement encompasses a lot, but the constants are service and people," Grigsby said. "We serve the people of our community in any way we can and show that the Los Angeles Rams care by being present, active, and committed to assisting in the overall growth of all."
This aligns with the Rams' Inspire Change social justice efforts, an extension of the NFL-wide platform launched by the league in 2019 that aims aim to create solutions that address community barriers and highlight stories and moments in Rams' history that have inspired change on and off the field.
For Grigsby, Inspire Change means thinking outside what one has learned and seeing things from another person's perspective, while also leveling the playing field and providing equal opportunity for everyone in education, economics and social justice.
Grigsby is doing his part in that regard by using that same foundation as motivation.
"My children, Eric Amir, 6, and Nova Chanel, 20 months, motivate me most," he said. "They are my why and inspire me to improve daily. Leaving a legacy my children can be proud of also motivates me. My fraternity, Omega Psi Phi Fraternity Incorporated, talks about the worthy standard of a man, not being about what you have but what you give. I want to leave a legacy of serving and uplifting my community.
"My upbringing also motivates me. Coming from the inner city, through Crenshaw High School, pushes me to exceed expectations to inspire those at home. The opportunity to work in the community I grew up in representing an organization like the Los Angeles Rams is a true blessing. The chance to encourage children within the community that there are professions off the field that they can achieve is motivating."
For celebrating Black History Month, Grigsby pointed to remembering the past to continue inspiring change, and also creating a better future for the next generations.
"We should celebrate by remembering how far we've come and those who have paved the way," Grigsby said. "By highlighting the stories of our ancestors who fought for change and who dedicated their lives to make this country and our world a better place. We should celebrate by fellowshipping with all and find ways to inspire and remind each other that we can also do just as our ancestors achieved in their day. And lastly, we should answer the call to do our part to make our world a better place for the generations that will follow."