"Today we highlight the greatness of Los Angeles Unified and recognize the strength of a student to be the best that he can be, and the commitment of an excellent teacher who inspires all of her students and this school community," said Local District Central Superintendent Roberto Martinez.
On Thursday, December 19, the Los Angeles Rams and CBS-2/KCAL-9 visited Eagle Rock High School to recognize an LAUSD Student and Teacher of the Month. The Eagle Rock Marching Band, Drill Team and cheerleaders formed a tunnel to welcome the entire student body into the gymnasium for a morning assembly to recognize senior ALAN CISNEROS and physics teacher SARA RAMOS-LOPEZ for their accomplishments.
Cisneros has a quiet confidence and charisma and encourages students to volunteer for community initiatives that promote safer pedestrian access on busy neighborhood streets. He's also a member of the Eagle Rock football team and has made a huge impact on the field. As a captain, he led the Eagles' defensive unit and leads the Northern League in tackles with 144. Cisneros currently holds a 3.9 GPA and doesn't shy away from the most difficult of courses. He's enrolled in seven college-level classes and draws inspiration from his physics teacher, Ms. Sara Ramos-Lopez.
"Loving what she does and continuing to help me was just an inspiration," said Cisneros about Ms. Ramos-Lopez. "I thank her for pushing me to understand what it takes to achieve my goals"
Ramos-Lopez moved to the United States from Spain in 2003 and has dedicated herself to Eagle Rock ever since. She was inspired to be a teacher from her mother and aunt, who are both retired teachers and worked a combined eight years in the Spanish public-school system. Ramos-Lopez gets the most joy from helping a student who is struggling grasp difficult concepts.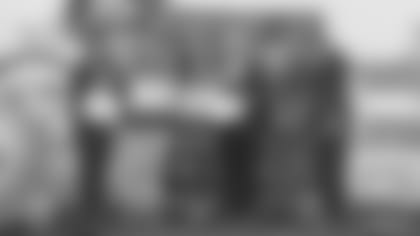 "Watching my students grow and learn brings me joy," said Ramos-Lopez when asked what strives her to teach. "I think to myself, 'Maybe I can make a difference,' and that's what gets me up every morning."
Her student's pass rate on the AP physics exam last year was an impressive 73%, which was much higher than the average national pass rate of 45%. She's also had a significant increase of female enrollment for AP physics from 0% to 50% over the last decade.
"She makes the coursework accessible to students because by no means is the content easy," said Mylene Keipp, Principal of Eagle Rock.
The dedication of Cisneros and Ramos-Lopez exemplifies what it means to be a Student and Teacher of the Month. On behalf of CBS-2/KCAL-9, Cisneros received a $200 check for his education and Ramos-Lopez received a $200 gift card. Both honorees also received a personalized Rams jersey to go along with tickets to a Rams game in the new SoFi Stadium.
"This program is incredible," said JOHNATHAN FRANKLIN, Los Angeles Rams Community Affairs & Player Engagement Manager. "These teachers are preparing the future politicians, educators, inventors, and athletes. The students will lead our communities, cities, and country one day. To honor the unmeasurable effort and consistency of these teacher is well deserved. I'm thankful to be a part of an organization that values education, students and teachers."
Additional notable attendees who joined the assembly were Los Angeles Unified Vice President and Board Member Jackie Goldberg and CBS-2/KCAL-9 Sports Director Jim Hill.