On Wednesday, January 29, the Los Angeles Rams and CBS-2/KCAL-9 visited Alfred B. Nobel Charter Middle School to recognize LAUSD's Student and Teacher of the month, Hizela Martinez and Tracey Gilchrist, for their achievements in and out of the classroom.
Sitting next to her mother during a school-wide assembly, Martinez displayed confidence and gratitude when she stood to acknowledge the applause of her peers. She is one of five siblings and was born blind but never lets her physical impairment hinder her commitment to thrive and succeed. Overcoming many challenges as a young student Martinez has learned to read and write in Braille, developed adaptive skills and trained herself to navigate through her environments. Amongst her peers and teachers, she's known to thrive with grace, dignity and determination.  
"It's just how I look at the world," said Martinez on what drives her. "I just look at it as if the world needs more improving because some people don't even want to try."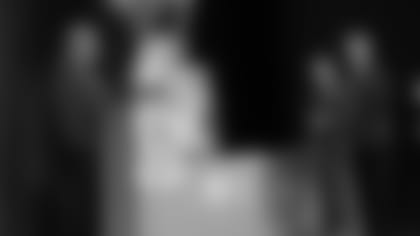 Having never stepped foot on a large campus or attended a classroom with more than 12 students, Martinez has courageously faced new challenges heading into Middle School. She's impressed teachers and fellow students with her academic ability and confidence, achieving a Grade Point Average of 3.82 in her last semester. In the spring, she will be honored during a medalist ceremony which recognizes students with a GPA of 3.5 or higher.
"Nothing stops her," said Martinez's Science Teacher, Christy Walshawile. "You get all kinds of students that say, 'I can't. I won't. It's not in me.' Never do I get that from Hizela."
With similarities to Martinez in her dedication to academics, Gilchrist exemplifies the definition of a unique teacher by bringing real life experiences to her classroom. Gilchrist knew from as early as 2nd grade that she wanted to be a teacher. As a young girl, she would conduct classes using her dolls. She began teaching in 1984 and continued pursuing her passion two years later when she moved to California. Gilchrist hasn't looked back since and has dedicated herself to LAUSD students for more than 30 years, experiencing the most joy when her students are noticeable ready to learn.
"The biggest joy is knowing just what it takes to turn a child onto learning," said Gilchrist. "To know when you are walking around the room and their eyes are on you, you have them in the palm of your hand, so making it exciting, making it fun, teaching the standards and connecting. There's nothing like it!"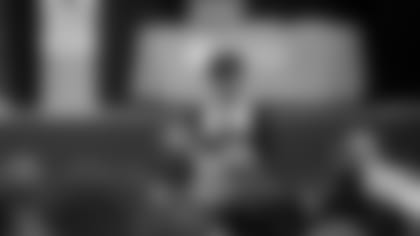 Gilchrist tailors her teaching style to the needs of her students. From the mentorship of her 12th grade English teacher, she learned to incorporate experiences in her lessons, making the process of learning richer and more interactive. 
"She was amazing and had the love for teaching," said Gilchrist. "She mentored me through my four years of undergrad and was there giving me advice and helping me get through the program. My first back-to-school-night in New York, I was terrified, and she just told me exactly what to do. Since then, she has just been the guiding light and really models the epitome of what a teacher is."
At the conclusion of the assembly, Martinez received $200 for her education and Gilchrist received a $200 gift card on behalf of CBS-2/KCAL-9. Both honorees also received a personalized Rams jersey to go along with tickets to a Rams game in the new SoFi Stadium.
Additional notable attendees who joined the assembly were Los Angeles Unified Board District 3 Board Member Scott Schmerelson and CBS-2/KCAL-9 Morning Anchor DeMarco Morgan.