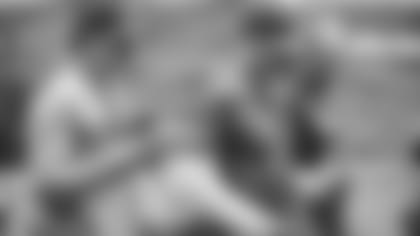 A strong indication that Zak Kromer would follow in his dad Aaron's footsteps and become a coach occurred one Father's Day when he decided against getting the customary gift of a necktie, golf balls or a socket set and gave his dad something much more memorable.
"I made a playbook for him when I was a little kid," Zak said. "He told me he still has it. It's always been special to me that I've been able to follow in his footsteps and start at a young age. (I don't remember the plays, but) I know they didn't make sense."
"The best present he ever gave me as a little kid, I can't remember how old he was, but he had to be in elementary school. He had plays that didn't make any sense, but it was sure fun to look at them with him," said Aaron, who also has a daughter, Brooke, and is in his first season as the offensive line coach of the Los Angeles Rams, and his 17th season coaching in the NFL after stints with the Buffalo Bills, Chicago Bears, New Orleans Saints, Tampa Bay Buccaneers and Oakland Raiders. He began his career by coaching in the college ranks for 11 years at his alma mater, Miami (Ohio), and Northwestern University.
And aside from drawing up his own plays, there were other signs that the younger Kromer was destined for a future in football.
"Zak has been hanging around the coaches since he was a little kid," Aaron said. "When we were at Tampa Bay, (then-Buccaneers head coach) Jon Gruden encouraged you to bring your boys around just because he grew up as a coach's kid. So, Zak was around guys like Jon Gruden and Paul Hackett and (executive) Bruce Allen. He was intrigued as a little guy.
"Someone asked my wife, Dawn, the other day, 'When did Zak decide he wanted to be a coach?' And she said, 'Two years old.' I don't know if that's true or not, and I don't know if he's ever considered anything else. He's always been about the game and about the camaraderie. We've been around a lot of good people in this game."
"I've seen [my dad] work his way up from college to the NFL, and I didn't know anything else I wanted to do. I grew up with it and I loved it," Zak said. "He always told me, 'You don't have to stick to football. Do anything that you want.' And I always came back to football. His best advice was just to keep trying, give it all you got. And he said that if you want to keep with football that I just had to do my best at working as hard as I can if this is what I wanted to do.
"I was able to work with (football head coach) Bob Stoops at Oklahoma during my college years as a student/coach, I worked with the quarterbacks. And then I got the opportunity to work with (my dad) last year (with the Bills). And now (Rams head coach) Sean McVay gave me the opportunity to work with my dad again (as Los Angeles' offensive quality control coach who will primarily assist with the offensive line), which has been a great opportunity."
"I hope he can be better than me, to be honest," Aaron said. "We've all had mentors and I've had very good mentors. And to be his first mentor, I know what I can give him because of the 17 years being in the NFL and some things to look for and some things to avoid and some things to draw closer to. So, I'm glad that I get this opportunity and I'm also really glad that he's around Sean McVay.
"To me, he is a great teacher, he's a great communicator and he has a lot of positive energy. You're looking for someone to emulate and how to act, and I really think that he's a good role model for Zak."
"(My dad) means everything," Zak said. "He got me here where I am today. We do a lot of activities outside of football as a family with my mom and when my sister comes to town, as well.
"We've really been a close family. Being a football family, I think made us grow closer because we always knew that if we didn't have any friends where we were going to move, we always had our family."