The Los Angeles Rams kicked off this season's Rams Readers literacy program by hosting a reading session for second and third-grade students at Felton Elementary School.
Rams Cheerleaders joined Rampage to read the team's children's book, Ride with Rampage, which takes readers on a journey throughout Los Angeles before reaching Sofi Stadium for Ram's game day.
"I vividly remember when I was in elementary school back home in Michigan and having mascots from different professional teams come to my school. It was the best day ever," said Brendan, Rams Cheerleader. "To now be a LA Rams Cheerleader and get the opportunity to make a student's day means the absolute world to me. I know that I would have given anything to be here as a kid. It was awesome to help bring the magic of game day at SoFi Stadium right here to Felton Elementary School."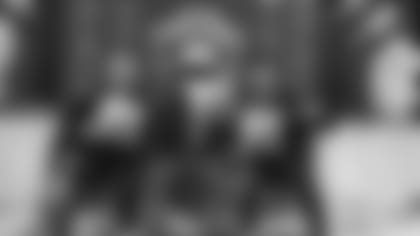 As part of the Rams Readers literacy program, students received a copy of Ride with Rampage, Rams Readers crayons, and an activity guide.
"This program has been absolutely amazing, and we've had an amazing reaction from all of the students," said Eswinn, Rams Cheerleader. "It's fun to see everyone light up and get excited to read along with us."
The team kicked off the Rams Readers literacy program and released Ride with Rampage in March to celebrate Read Across America Day. Throughout the spring of 2022, first through third-grade students in Inglewood Unified School District (IUSD) and Los Angeles Unified School District (LAUSD) received copies of Ride with Rampage. The Rams Readers program encourages students to explore the excitement that reading can provide while helping improve literacy rates among students in Los Angeles.
"Having the Rams, who have their home base in our backyard, come to our school is very valuable because students understand that they're being sponsored and being shown the value of reading," said Norma Martinez, Principal of Felton Elementary School. "Reading is very important and to have this coming from our partners is wonderful to see."