THOUSAND OAKS, Calif. – The first time the Rams played the Cowboys in the Sean McVay era, they came away with a 35-30 victory at AT&T Stadium that moved them to 3-1 in McVay's first season.
Quarterback Jared Goff, who completed 21 of 36 pass attempts for 255 yards and two touchdowns, still has fond memories of that game in AT&T Stadium.
"I love playing there," Goff said. "It's a good atmosphere, it's a lot of fun, it's indoors – you feel fast out there. It's a fun place to play."
At the time, it was a milestone victory for Los Angeles. And much like when the two teams played in the divisional round of the playoffs last season, plenty is at stake.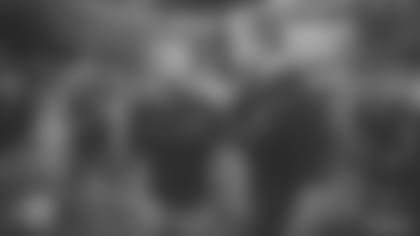 In 2017, McVay was approaching his fourth game as the Rams' head coach when they were preparing to face the Cowboys. Los Angeles had a 2-1 record through the first three weeks and sought to build momentum off their 41-39 road win over San Francisco.
The Rams would rally from an 11-point first half deficit to earn that 35-30 win and a reputation as contenders.
"It was a good game," running back Todd Gurley said. "It came down towards the end, offense did a pretty good job and then defense ended up getting a good stop. We all know we won the game, that's all I do know."
While McVay didn't go so far as to using words like contenders, he did view the result as an important sign of progress for his team.
"It was a big game," McVay said. "I thought that game really, in a lot of ways, represented, because of the caliber of team that they were and being our fourth game, a great step. To be able to go on the road against a team that had a first-round bye (in the playoffs) the previous year, I want to say they had 7 and 1 at their place the previous year, and come from behind, I thought it was a true team effort."
Gurley ran 23 times for 121 yards, adding seven receptions for 94 yards and one touchdown in the win. His touchdown, along with kicker Greg Zuerlein making a career-high seven field goal attempts, are two of McVay's most vivid memories.
"Everybody remembers the Gurley seam play that gave us the lead and we never relinquished it," McVay said. "Greg Zuerlein was unbelievable with all the kicks he made."
Including Gurley and Zurlein, both Los Angeles and Dallas retain much of the same personnel that produced the previous regular season thriller as well as last year's dramatic divisional round playoff game which L.A. won 30-22, especially on the offensive side of the ball.
Cowboys quarterback Dak Prescott is the NFL's leader in passing yards under new offensive coordinator Kellen Moore, and he's maintained a strong connection with top receiver Amari Cooper. There's also running back Ezekiel Elliott, whose 4,048 rushing yards from 2016-18 were most in that span. The running back who had the second-most? Gurley, with 3,441.
"They've got a good running back back there that can help everything move, and they're throwing the ball real good," Rams defensive tackle Aaron Donald said. "Got some big-time weapons on the outside that's helping them. We've just got a good matchup against a good team and good players, we've just got to go out there and execute."
The Rams did just that against Cowboys in 2017, and their record at the quarter mark of the season gave the team confidence, according to McVay.
The Cowboys, at 6-7, could use some now, too, after the Eagles moved into a tie with them for first place in their division with a Monday Night Football victory over the Giants. Dallas holds the fourth seed in the NFC playoff picture because they own the head-to-head tiebreaker.
Los Angeles be looking for a boost similar to 2017 this weekend, sitting a game behind the Vikings for the final wild card spot.
"it was a special memory," McVay said of that regular season game, "but we've got to be ready to go again."