With the final pick of the Rams' 2019 draft, general manager Les Snead called linebacker Dakota Allen out of Texas Tech.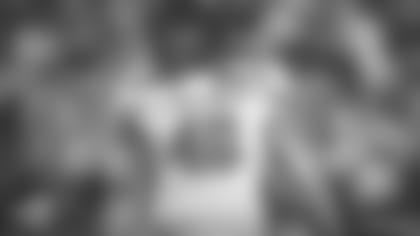 Allen's time at Texas Tech was split with a season at East Mississippi State Community College — the school featured on Seasons 1 and 2 of Netflix's original series 'Last Chance U', a multi-part documentary in which 'Elite athletes with difficult pasts turn to junior college football for a last shot at turning their lives around and achieving their dreams.'
Allen landed at EMCC after an off the field issue following his redshirt freshman season at Tech. It was an experience that the newest Ram said both thrust him into the spotlight and saved his relationship with the game.
"Honestly, it was a weird experience, but also a great experience. People do recognize me from the show. They recognize me as sort of the good guy on the show," Allen said. "The whole experience was just amazing and I'm thankful for it because I was able to continue playing football."
"We definitely talked to him, interviewed him at the Combine, we did a lot of research on him," Snead said after wrapping up the seventh round. "And I think the No. 1 thing we try to find out when someone goes through adversity is what happens after that adverse moment and is there any lessons that are applied."
On the field, Allen returned to Texas Tech and became a significant contributor. In his final two seasons under now-Cardinals head coach Kliff Kingsbury, Allen started in 24 games and logged 175 tackles, 12.5 tackles for loss, 2.5 sacks, and two interceptions.
Off the field, Allen said he realized what really matters.
"I'd say, I learned what's important to me, and that's definitely my family and that's definitely football," Allen said. "I don't want to do anything to jeopardize either one of those things."
"Life isn't perfect and you've always got to make a decision because some of things that you guys hear us talk about with the character is an extremely important factor of what we want, but to think that perfection is realistic — it's not. What you learn a lot about people is that when they do go through that adversity, how do they respond?" head coach Sean McVay added to Snead's thoughts on their new 'backer. "I think that's a great indicator of how people are going to handle things that are inevitably going to come up in life, and especially that's relevant to football."