For the 11th consecutive season the Rams, the NFL, and American Cancer Society (ACS) have worked together to support the fight against cancer through "Crucial Catch – Intercept Cancer," an initiative that aims to address early detection and risk reduction efforts for various forms of cancers.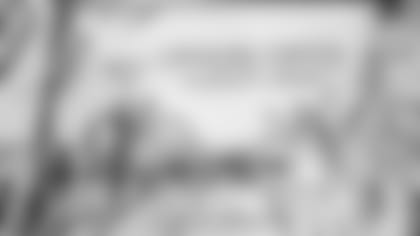 During warmups, approximately 100 Season Ticket Members, patients with Cedars Sinai, and American Cancer Society representatives who are fighters and survivors of cancer received an on-field recognition in the endzone where they were positioned for player introductions and the National Anthem. An additional 100 fighters and survivors also unfurled the "Rock the Rams House" banner near the peristyle arch.
Additionally, the game's opening coin toss at midfield featured youth cancer survivors and avid Rams fans Angelina Santana and Aiden Duong, who joined the captains of both teams and representatives from Cedars-Sinai. At the age of 2, Santana was diagnosed with a rare form of cancer known as Rhabdomyosarcoma, as a tumor on the side of her neck began to develop. She immediately began chemotherapy and underwent multiple surgeries. After years of treatment, Santana achieved remission at age 11. Now at 18, she still undergoes year MRI's and tries to give back to kids who have shared similar struggles with cancer. Duong was diagnosed with Hepatoblastoma when he was 10 months old and has battled through multiple rounds of chemotherapy in his early years.
As the countdown till kickoff was approaching,15 individuals who have fought or are currently battling cancer stood in the peristyle to light the Coliseum torch and two youth cancer survivors served as "Helpful Kickoff Captains," retrieving the tee after kickoffs for each half of the game.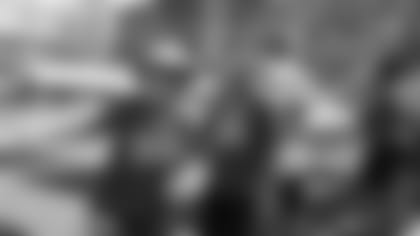 During the first quarter, the Rams honored Marine Crops First Sergeant and cancer survivor Maricarmen Cuza, who enlisted in the Marine Crops and has served in a variety of roles in different locations around the world such as Camp Pendleton, Parris Island, Okinawa, Iraq and Afghanistan. In May 2014, First Sergeant Cuza became one of the first females to be assigned to the School of Infantry and reported to Marine Combat Battalion in Camp Pendleton. After 20 years of service, Cuza retired from the Marine Corps and was later diagnosed with cancer in January 2017.
Lifelong Rams fan, Los Angeles native and cancer fighter Frank Rojas was also recognized during the second quarter as the Season Ticket Member of the Game. Rojas has been attending games with his father since the 1970s when the Rams played at the Coliseum. When the team moved back home to Los Angeles in 2016, Rojas became a Season Ticket Member and has also secured his seats for future Rams games at SoFi Stadium beginning in 2020. Recently diagnosed with kidney cancer, Rojas worked tirelessly to expedite a 6-8-week recovery to attend the Rams home opener against the Saints. Through his recovery, he wore Rams gear as a form of inspiration so he can continue to attend games with his family and cheer on his favorite hometown team.
"It happened really fast. As the video started, I caught the announcer saying that my father used to take me to games and my father had passed away of brain cancer when I was a teenager," said Rojas. "Going to games with him many years ago in the Coliseum and having him be a part of it was special because he was the first to take me to games. Being able to be on the field and be recognized during the Crucial Catch game was amazing because it gave me the opportunity to remember him and my ability to fight through my issue to be there."
As part of a beautiful halftime ceremony, Rams staff and their family members impacted by cancer unfurled a ribbon-shaped banner on the field as the Coliseum held for a moment of silence. Following halftime, former Rams Linebacker CHRIS DRAFT was recognized as Legend of the Game. In 2006, Draft was introduced to his wife, Keasha Rutledge, who helped him establish TEAM DRAFT, an initiative of the Chris Draft Family Foundation, before passing away from lung cancer in 2011.
Since 2012, NFL funding has reached more than one million people nationwide and more than $20 million has been raised and donated to ACS through the partnership with the league and its 32 clubs.