On Saturday, May 19, the Los Angeles Rams donated football cleats and jerseys worn by Rams players on the 2017 roster to more than 100 young adults (ages 18-23) at the Ventura Youth Correctional Facility as part of the team's 'Cleats for Character' program. Team executive JOHNATHAN FRANKLIN,defensive backs DOMINIQUE HATFIELD&TROY HILL, defensive end ETHAN WESTBROOKS, and*nine *Rams Legends led youth in discussions about the importance of goal setting, the values of good character, the processes of self-healing, and developing one's personal identity. Following the discussions, the participants were sized for the cleats of their choice before concluding the event with a football clinic.
"Today really shows the power of sports as we have three current players and nine former Rams out here with us as we aim to provide hope where it might not exist and try to maintain it where it does," said Franklin, Rams executive of community affairs and engagement.
For inmate Robert Ayala, the event was much more than a round-table discussion and some football drills, but an opportunity to talk about his future aspirations, receive encouraging feedback, and participate in some football drills with players on his hometown-NFL team.
"Normally, we tend to feel like we're outcasts," said Ayala. "But now that the Rams are here and they're involved and interacting with us, it's very heart-warming. It does let us know that we are important and a part of society."
Rams defensive back TROY HILL took the opportunity to pay forward some guidance and share some lessons that go well beyond the football field.  
"At one point I was living in Ohio and I wasn't going to school, so I felt like this was a situation where I could relate to them a little bit," said Hill. "I just wanted to provide them some knowledge given some of the things I've been through and some of the things I've seen."
Beginning in 2010, VYCF implemented a football program to reduce violence, develop some camaraderie and engage its youth in some exercise. The program includes organized teams with scheduled games and practices that take place every week. For many at VCYF, playing football is something to look forward to and the facility will oftentimes use the sport to provide positive reinforcement to the young adults.
"Football is so important to our kids that they often make sure to stay out of trouble just to play," said Maria Harper, VYCF's Superintendent Maria Harper. "So I think this experience was really cool for them."
"It was great to connect with these future leaders," said Franklin, who orchestrated the initiative. "Individuals who had their scholarships taken away are asking, 'How can I get my scholarship back? What does college look like?' People are expressing gratitude and showing our players that they're inspired. This is what it's all about-perspective."
Rams Alumni who participated in the 'Cleats for Character' initiative were: George Andrews, Reggie Doss, David Hill, LeRoy Irvin, Johnnie Johnson, Phil Olsen, Isiah Robertson, Ivory Sully & Joe Sweet. 
In April, as part of the 'Cleats for Character' initiative, the Rams donated football cleats and athletic shoes worn by players on the 2017 roster to four high school football programs located in the Los Angeles region. In 2017, the Rams also donated a total of 600 cleats and athletic shoes to seven local schools including: Inglewood High School, Morningside High School, Hamilton High School, Compton High School, Camarillo High School, Hueneme High School and Carson High School. Footage from one of last year's 'Cleats for Character' events can be viewed here.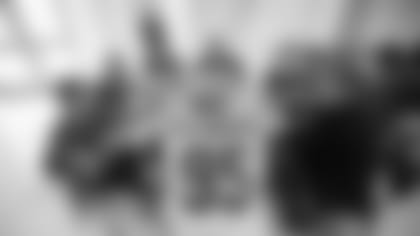 If you would like more information about the Rams' community efforts, please visit the therams.com/community.