Over the past two months, the Los Angeles Rams partnered with local non-profit organizations and youth football clubs to host free football clinics for nearly 700 LA youth at different locations throughout Southern California. Each clinic engaged youth in football drills, an educational lesson on character and offered competitive flag football games. Participants ranged from grades 2-8 and went home with a Rams-branded Youth Football Camp t-shirt.
On Monday, March 5, the Rams hosted their first clinic at Lincoln High School with LAPD's Pueblo United. As a police officer and a volunteer youth football coach, Joe Quezada believes the sport of football can provide countless mentorship opportunities. Through the game, he motivates Pueblo Del Rio youth to achieve their full potential and build confidence through sport and teamwork. Quezada believes the Rams free clinic was a great way to reinforce his program's values while engaging in some friendly competition.
"The experience for Ramona Gardens/Lincoln High is one that will be unforgettable for our youth football players," said Quezada. "It really had a positive impact for all participants and the community in so many ways."
Located in South Central Los Angeles, Verbum Dei High School was the site of the Rams free youth football clinic for the Watts Bears on Saturday, March 10. The Watts Bears program was created by LAPD officers from the Southeast Division, who coach student-athletes in football and track & field and give underprivileged youth in Watts a chance to play organized sports on a larger scale while providing a safe and positive outlet for well-deserving kids. As the program's general manager, Carnell Marshall believes the youth football clinic provided great instruction on topics such as safety, preparation and most importantly, team solidarity.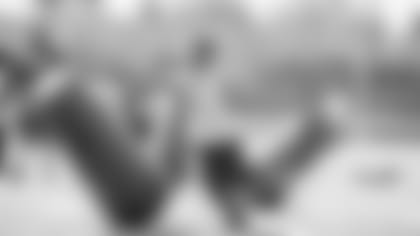 "The clinics have been awesome for us because it helps us jump start the kids into shape and it got the kids pumped up for football," said Marshall. "The USA Football coaches that came talked a lot about safety and counseled the kids about Pop Warner Football for ages 14 and under. They were telling the kids to get low and not lead with their head. Even though it was flag football, they were educating the kids about anatomy and showing them where the spine is and giving them instructions on how to prepare before engaging in physical activity. It was great because they were teaching them in a way the kids would understand and learn. When you have programs like this come in, the kids and the parents realize that these big organizations like the Rams really do care. This wasn't just about flag football and it wasn't about the Rams, it was about working together as a team."
The Rams held their third clinic with Heart of Los Angeles at Lafayette Recreation Center on Saturday, March 25. The program's Athletic Director Cameron Schuster thought the clinics were a refreshing way for athletes of all positions, gender and skill level to fine tune their football skills and get some instruction from professional coaches and mentors.  
"The LA Rams football clinic was a resounding success," said Schuster. "The youth who attended had a fantastic time, as well as the parents who were vigilant spectators. I was impressed by how genuine and warm the coaches were with the youth. The approach that they brought was not formulaic or routine at all. They made every kid from each group feel welcomed, supported and celebrated. For me, one of the best parts of the day was seeing some of the girls from our Girls on the Run program compete on an equal playing field with the boys and succeeding!"       
At Narbonne High School, the team hosted a clinic for Laced Facts, a Charter School for 2-8 grade student-athletes where they attend study, train and play together year-round. Laced Facts CEO Mike Evans thought it was great to see his student-athletes building relationships with other kids in the community as they shared their common joy for the game of football.
"This really let our kids know that the Rams care about them and are willing to be in the community creating experiences for them," said Evans. "Our kids also were able to build relationships with other kids in our community which was really awesome."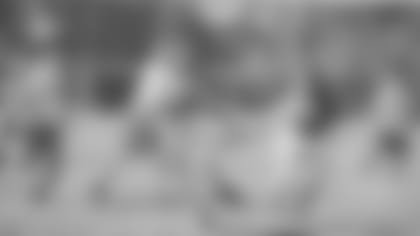 Held at Edward Vincent Jr. Park on Saturday, April 7, the Rams hosted a free clinic for After-School All-Stars of Los Angeles, which is a comprehensive after-school program serving kids with the greatest needs and fewest resources as the premier K-12 program for schools throughout LA County. With many of his youth participating in organized football activities for the first time, the program's Director of Leadership and Community Outreach Donny Faaliliu couldn't help but notice an unmatched level of energy and enthusiasm during the Rams clinic.
"Our After-School All-Star, Los Angeles students were full of energy as they rotated throughout the different stations," said Faaliliu. "For many of our students, this was their first time participating in an organized football clinic. Students walked away from it with a renewed sense of self confidence to push themselves to overcome their physical and mental fatigue. The LA Rams staff/volunteers went above and beyond to ensure our students had a great time and encouraged our students to not be afraid, to overcome their fears, and continue to chase their own greatness. Thanks so much to the LA Rams for their time and dedication in educating our students on the importance of staying active and making good healthy decisions. We are so grateful!"
On Tuesday, April 10, the Rams hosted their sixth football clinic for youth at A Place Called Home, which provides a safe, nurturing environment with proven programs in arts, education and wellness for the young people in South Central Los Angeles to help them improve their economic conditions and develop healthy, fulfilling and purposeful lives. The program's External Relations & Special Initiatives Director, Gilbert Radillo believes the opportunity to learn from professionals will help set a precedent for his students, and one that will provide them a recipe of success to achieve their future dreams and aspirations.
"I think the kids learned that it is hard work to be a pro athlete," said Radillo. "They appreciate that it's fun, but they also understand that it involves real commitment, hard training and discipline to propel to greatness. They also learned that a team is as good as an individual contributes and that everyone has to give it their all to yield the best results as a team."
The Rams hosted their final clinic with Los Angeles Boys & Girls Club at Lincoln High School on Saturday, April 14. With nearly 130 youth in attendance, the club's Program & Teen Director Lance Holliday thought it was great to see such a large group show unity and cohesion on the field and to watch the coaches explain the importance of technique in the game of football.
"Everyone had smiles on their faces," said Holiday. "As a coach, it was great to be out there with different kids from different communities and see them come together. One of the things I noticed was the structure and concentration of the drills and the way the coaches demonstrated them. They really took the time to show good technique which was important because a lot of these kids haven't been in that type of learning environment. The coaches brought their expertise and terminology while also making it fun for the kids. The two words that come to mind when reflecting on the camp are 'community' and 'togetherness.' Even though they were in separate sections, they were all wearing that Rams T-shirt and it gave everyone a sense of belonging and I know they felt part of something bigger than themselves."
For more information about the Rams' youth football and community initiatives, please visit therams.com/community.