On Saturday, June 2, the Los Angeles Rams hosted a PLAY 60 Field Day for youth (Kindergarten-8th grade) at Los Angeles Air Force Base's parade grounds, located at Fort MacArthur in San Pedro.
Participants kicked field goals, threw passes to a Todd Gurley cutout, ran 40-yard dashes, competed in inflatable relay races, and even started a flag football game with team mascot Rampage taking snaps at quarterback. The PLAY 60 Field Day was part the NFL's PLAY 60 initiative promoting physical activity for a recommended 60-minutes per day.
According to Los Angeles Air Force Base' Recreation Specialist Erin Banks, a sense of community is of extreme importance when creating a positive atmosphere where lifelong connections and comradery is formed. The ability to communicate with fellow base residents is essential to effective problem solving and establishing relationships with other military members and personnel.
"It means more then we could ever understand to today's military youth to see professional sports organizations come to their area and hold an event just for them," said Banks. "It not only helps the kids connect with their favorite teams, mascots, and cheerleaders, but it fosters a sense of community with the team and helps the kids feel more connected to the Rams and their base neighbors. Military members both past and present give so much and this was a great opportunity for the families to have their kids participate in some physical activities outdoors just in time for summer and at no cost to them."
Banks believes the Rams' visit to Fort MacArthur provided an opportunity for base residents to connect with the Rams and even more importantly, build relationships and have some PLAY 60 fun with their own neighbors.
"I see the kids on base running around wearing their PLAY 60 T-Shirts they received at the event and when they come across another person wearing the same shirt, they get excited," said Banks. "They feel like they're on the same team. That sense of community and connection is what we need more of everywhere."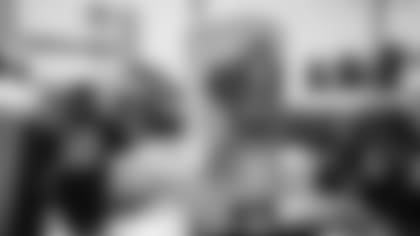 Amongst the participants were variances in age, gender, athletic abilities and interests. Given the multitude of ways one can be physically active for the recommended 60 minutes per day, Community Affairs and Player Involvement Manager Zach Kinkeade prioritizes inclusivity for all skill levels and interests. With a variety of different stations, ranging from a selfie-photo booth with cheerleaders to football-related drills & competitions, the Rams' PLAY 60 Field Days feature an activity station for everyone.
"We always want to make these events all-inclusive," said Kinkeade. "We organize it so anyone can get out there and run around. We even saw a dance party out there today along with a game of tag. We really want all participants to have fun and not worry about being the best athlete, therefore it's really important that we include a variety of different stations so everyone can have some fun."
Los Angeles Air Force Base is the only active duty military installation in the greater Los Angeles metropolitan area and offers services to eligible base personnel, retirees, service members from all branches and their families. The base also serves as the headquarters for The Space and Missile Systems Center, which is the center of technical excellence for developing, acquiring, fielding and sustaining military space systems.
Through various community outreach and PLAY 60 initiatives, the Rams aim to create an active and healthy generation by engaging youth in activities that promote physical fitness, health and character education through in-school, after-school and team-based programs.