LONDON – Numerous and various jerseys can be found throughout the crowd in an NFL London game.
But 35 years ago? That's a different story.
Back then, replica American football uniforms weren't as accessible in the United Kingdom as they are now, so Colin Mann of Glasgow, Scotland, had relatives in North America send him a Rams game jersey and an Eric Dickerson practice jersey in the mid-80s.
Mann had been a Rams fan long before the Dickerson days, drawn to the club because of its royal blue and yellow colors – his two favorites. While he's since outgrown the game jersey he received as a child, his support for the Rams still remains.
"It just becomes embroidered in your character," Mann told theRams.com. "So yeah, I've been a Rams fan for a long time."
Indeed, Rams house crosses both countries and generations. It is wherever fans are watching the game – not just in the United States – and its members have many different reasons for why they chose to support Los Angeles.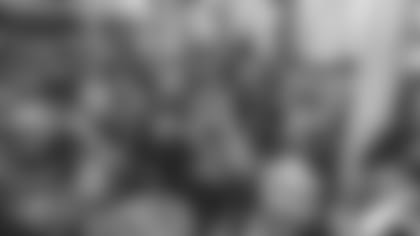 Chris Fellowes, also of Glasgow, has been following the Rams since he was 14-years-old. His interest in the Rams began with a request from his brother-in-law.
"Many years ago, when I was just a young boy and American football was just (starting to be broadcasted) on TV in the UK, I was asked to record the TV show on the old VCR by my brother-in-law," Fellowes said. "The only game I saw, the only game I noticed, was the Rams against Green Bay. Ron Brown returned two kickoffs for touchdowns and (caught) a long pass for a touchdown. And I saw the blue and gold and the California sunshine, and that's been (with) me ever since."
Though he lives more than 5,100 miles away from Los Angeles, Fellowes been able to attend several Rams games in the last three seasons, including the Super Bowl. Sunday's game at Wembley Stadium against the Bengals will be his ninth during that span.
Considering distance means little to his efforts to support the Rams, one would likely not find it surprising to learn he was happy to make the four-and-a-half hour train to London to attend Saturday's fan rally at The Barrowboy & Banker.
It was a a manageable trip for Sebastian Mühlenhof of Stuttgart, Germany, too. He made the two hour flight from his native country to experience the fan rally. He said a friend made it possible to attend.
"It's way closer than Los Angeles, and when I read that the Rams would be here, I did all my best to make it," Mühlenhof said.
Mühlenhof began watching American football six years ago and began following the Rams when they moved from St. Louis back to Los Angeles, curious to see how they would do in L.A. He watches the Rams games mainly via NFL RedZone, and sometimes on TV.
"I fell in love, to be honest," Mühlenhof said.
For Dan Rollason of Coventary, a city located in Central England, his passion for the Rams grew out of playing EA Sports' Madden NFL video game franchise.
"Been a Rams fan since 1999, when I started playing Madden," Rollason said. "Marshall Faulk was on the cover in (2003), and he was my favorite player."
For each of these four Rams fans, the fan rally is an invaluable experience.
Rollason, who also attended the rally put on by the Rams in 2017, was happy to attend.
"This is really good," Rollason said. "We did this two years previous, and it was really good. Just shows you it's a good following over here now between the NFL and the Rams."
Mühlenhof appreciates the fellowship and enjoying the company of fans from other countries.
"It's awesome," Mühlenhof said. "In Europe, Germany, there's huge growth with NFL watching. These London games are so great. You can see former players, you can be here with people from all over and party with them. That's what football is all about. Football is family."
Mann said that, when you're younger and a student, it's difficult to afford to travel to the United States and attend a Rams game. Presently, his job also makes it difficult to travel as well. Thus, the Rams traveling to the UK and being more accessible is something he cherishes.
"It's absolutely brilliant," Mann said.
Simply being acknowledged by the league and the Rams is what resonates with Fellowes the most. He also enjoyed getting the chance to see Dickerson and Torry Holt, another Rams legend.
"It's incredible," Fellowes said. "It's fantastic, because it's recognition of the European fan base, which is I think what we all want. For me on a personal level, it means I get to see the guys I grew up idolizing and they're right here in my own country. ... Just to be recognized as a fan and have them here and respect what we're doing and acknowledge what we're doing, it means an awful lot."