In honor of Latino Heritage Month, the Rams will celebrate the contributions and achievements of the Latin community through the inspiring stories of their staff.
We continue that celebration spotlighting Grounds Maintenance Coordinator George Figueroa.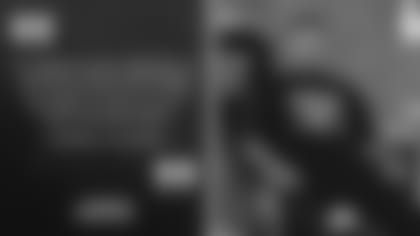 A native of East Los Angeles and product of Garfield High School, George Figueroa's drive is fueled by friends and family as he carries out his duties as grounds maintenance coordinator for the Rams – a title he earned in February 2023 after serving as a groundskeeper fellow the previous two seasons.
"Family, friends, former/current colleagues, and high school football coaches (shoutout Garfield H.S. and my hometown of East L.A.) all who have been very supportive of my career from when I was barely 18 years old to now," Figueroa said of the people who motivate him. "Aside from me loving my job, those people are the reason why I get up every morning to do my job. They have seen me in my darkest days and have helped lift me to become who I am today. I truly can't thank them enough, so the best I can do is go to work every day, and win the day."
Figueroa's main job is to assist the Rams' head groundskeeper in the upkeep of the team's practice facility in Thousand Oaks, Calif. His day/week consists of mowing, fertilizing and painting the Rams' practice fields. The grounds crew's top priority is to meet NFL safety standards and ensure a safe and playable surface for Rams players.
To that end, Figueroa said the best part of his job is hearing compliments from players, coaches and staff regarding the practice fields.
"It gives you the pleasure of knowing you're at top of your game and you're doing the right things," Figueroa said.
Figueroa points to his dad as his Latino role model and Hall of Fame, Super Bowl-winning coach Tom Flores as his Latino Hero.
"(My dad) is the reason for who I am today," Figueroa said. "He always told my siblings and I to be good people, joyful, and hardworking. I hope that's how others can describe me, so that way I know I am making him proud."
Flores, meanwhile, resonates because of what he accomplished and the fact that he was talked about often in Figeuroa's household growing up.
"He is the prime example of 'SÍ SE PUEDE,'" Figueroa said. "It shows every Latino that when we set our eyes on something, it can be done."
Figueroa honors his culture every day by learning and speaking the Spanish language. He said that as a first-generation kid, his Spanish "isn't all there," meaning there's a bit of an accent or he sometimes can't think of the correct word to use, but he works at improving on the language each day so he can communicate with family and other Spanish-only speakers.
Cultural traditions Figueroa wants to pass down are "how important family is to us, the importance of knowing the language, and continue to show that Latinos are hard workers."
It's one of the reasons why Latino Heritage Month is important, in addition to a greater understanding of the culture itself. For example, Figueroa's father was born in El Salvador and his mother in Guadalajara, Jalisco, Mexico. He said those are two very different cultures when it comes to sayings, food, holidays, music, etc., but "both are very hard working and dedicated to their families, goals, and jobs."
"It is important to show others who are not familiar with our heritage how uniquely different we are, but also show how united we stand together by being Latinos," Figueroa said.
Figueroa recommends celebrating Latino Heritage Month by embracing and diving into each nationality by understanding their history, culture, and customs.