In honor of Latino Heritage Month, the Rams will celebrate the contributions and achievements of the Latin community through the inspiring stories of their staff.
We conclude that celebration spotlighting Associate Manager, Ticket Operations Jessica Bracamontes.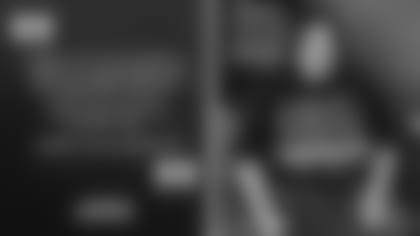 Jessica Bracamontes' Latino heritage played a prominent role in her current professional path.
"My dad has influenced my life in so many ways," she said. "He was the family provider and always worked. I wanted to build a father-daughter relationship, so I decided to start watching the NFL to connect with my dad. He is a huge reason I decided to choose to strive for a career in sports."
Today, that has her in eighth season working for the Rams, having first joined the organization in 2016, where she currently serves as an Associate Manager in the club's Ticket Operations department.
Ticket Operations assists with tickets and parking for all home games. For Bracamontes, the best part of her job is gameday.
"All the offseason work to prepare for 10 plus games and then seeing how it unites people from all sorts of backgrounds all for the love of football, is very rewarding," Bracamontes said. "Younger me would be very proud of where I am today. "
Bracamontes is first-generation Latino on her dad's side and fourth-generation on her mom's side. She said her dad moved to the United States when he was 9 years old, while her mom grew up in El Monte.
"Family gatherings on my dad's side (Spanish music, carne asada) versus my mom's side (Oldies and BBQ) were very different but so much fun," Bracamontes said.
Much like her background has influenced her career working in sports, it has also played a role in the cultural traditions Bracamontes wishes to pass down to others.
"Growing up, we always had family gatherings (aka carne asadas), listened to Banda/ Corridos and Oldies while enjoying each other's company by playing Loteria or the adults playing Conquian (a rummy-style card game)," Bracamontes said. "I hope to continue that throughout my life with family, friends and coworkers. "
Asked about her Latin role models, Bracamontes points to Cesar Chavez and Dolores Huerta and the way it ties into her family history.
"There are many important figures that play a huge role in the Latin community, but I would have to say two heroes speak out to me, Cesar Chavez and Dolores Huerta," Bracamontes said. "Their fight for empowering Farm Workers resonates with my family background. My grandpa used to work in the fields in Yuma to provide for his family. "
Bracomontes personally believes one of the biggest misconceptions about her culture is that all Latinos speak Spanish, "and if you, you're not Latino enough." It is a misconception that has deeply impacted her, and not in a positive way.
"My dad immigrated from Mexico and was discriminated against for both speaking English with an accent and speaking Spanish," Bracamontes said. "Because of the discrimination he endured throughout his life, he decided not to teach his children Spanish so we wouldn't suffer like he did."
Bracamontes believes Latino Heritage Month is important "to educate others and show appreciation toward the beautiful Latin cultures such as food, music, art and much more."
Celebrating it can be done in ways "big and small," from supporting local mom-and-pop Latino businesses to simply bringing awareness to those businesses.
"Even just hosting a Loteria game night with your close family and friends to keep the traditions alive," Bracamontes said.