In honor of Latino Heritage Month, the Rams will celebrate the contributions and achievements of the Latin community through the inspiring stories of their staff.
We kick off that celebration spotlighting Human Resources Analyst Oscar Alvarez.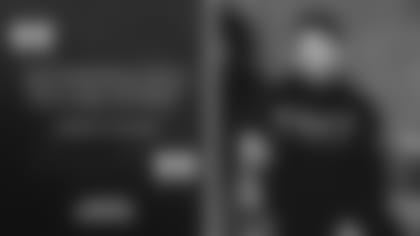 A staple of Latino households and culture, family time is how Oscar Alvarez honors his and remains a foundational influence in his everyday life.
"I am Mexican and both of my parents have instilled in me through our culture that family always comes first," Alavarez said. "Growing up it is hard to see that since we spend so much time with family, but as I grow older and educate myself more on my culture, I've come to cherish the time I spend with all my loved ones and that is what has guided me in the last few years."
Alvarez is the Human Resources Analyst for the Rams, a role he's held for two and a half years. He is responsible for helping the organization's Community, International, Marketing and Ticketing teams with all aspects of HR including recruiting, employee relations, onboarding, and "plenty of other various projects that help push our organization to be better every day."
For him, the best part of his job is the "amazing people I get to work with on a day-to-day basis."
"Everyone at the Rams is unique and special and I've been very fortunate to get to learn about their culture and work alongside them," Alavarez said.
Just as family has impacted his approach inside and outside of work, it is also Alvarez's biggest source of motivation.
"My family and loved ones are my biggest motivators, especially my nieces," Alvarez said. "I want my nieces to see that they can accomplish every dream they set their eyes on no matter where they come from, what they look like, etc."
He needs to look no further than that for an impressive example, as Alvarez said his mom is his biggest Latina role model daily.
"She came to the States, encountered numerous roadblocks, and worked countless hours to provide my siblings and me with the opportunity to get educated and chase our dreams," Alvarez said. "I couldn't ask for a better role model."
One of the biggest cultural misconceptions is that all Latinos look alike, so Alavarez has to educate people that those who belong to his culture "come in all different shapes, sizes, and colors."
"Sometimes I do not get seen for being a Latino because my skin is too fair," he said.
Alavarez said Latino Heritage Month is a time to reflect and "have gratitude for our culture, people, and traditions."
He said of the best ways to celebrate is through two core pillars of its culture: family and traditional Latino food.
"I would love for others to continuously dive into the amazing food we have to offer," Alvarez said. "There is no better meal than pozole and tamales. There is a rich history when it comes to our meals and how we prepare them so I always invite everyone to indulge in Mexican food every opportunity I get."