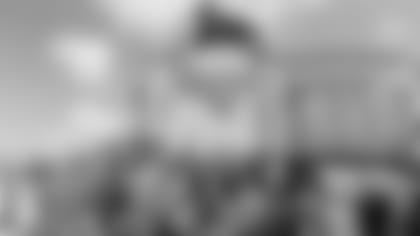 Starting today, non-profit organizations, schools or other academic institutions within the greater Los Angeles region may apply for the 2017 Rams Annual Community Improvement Project.  Organizations seeking to apply for the community improvement project may apply online CLICK HERE through Friday, April 7, 2017. Applications received after that date will not be eligible for the project, which is currently scheduled for June.
Since 2009, the Rams have offered the Annual Community Improvement Project in an effort to address some of the community's greatest needs. The Rams will fund and participate in the implementation of the project.
Last year, the Rams funded a playground for Woodsworth Elementary School in Inglewood, C.A. Rams front office staff and players were on site to build the playground with the help and supervision of Playcraft Systems and Pacific Play Systems, the designer of the playground. As part of this project, the Rams also power washed the school and painted two murals.  A video capturing last year's project can be found here.
ABOUT THE LOS ANGELES RAMS COMMUNITY IMPROVEMENT PROJECT
Since 2009, the Rams have hosted a monthly Staff Day of Service, where the front office staff volunteers with local non-profit organizations to create a positive impact in the local community. The Rams Community Improvement Project is the cornerstone volunteer effort of this initiative. Through this initiative, the Rams staff has provided more than 12,000 hours of community service.