Pro Football Focus (PFF) has a team of more than 300 staffers evaluating every NFL play from the Hall of Fame game to the Super Bowl. After each game, players, as well as each team's offensive, defensive and special teams units, are graded on a scale of 0 to 100; the closer a player or unit is to 100, the better. A full explanation of their evaluation process can be found here for additional context.
Here's a look at some of the noteworthy Rams-centric assessments leading into Week 12.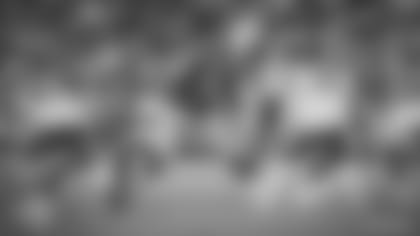 EVANS HAS POSITIVE FIRST START
With all the changes to the Rams' offensive line due to injuries, a good amount of attention was being paid toward rookie Bobby Evans at right tackle, where he was making his first career start. He more than held his own, based on what PFF saw.
Per PFF, the former Oklahoma standout allowed zero pressures in 21 pass-blocking snaps last night. His pass-blocking grade of 74.6 marked the second-best performance by a Los Angeles right tackle this season.
It's a small sample size, but the performance certainly gives him something to build off of. And with the Rams' regular starting RT Rob Havenstein doubtful to play Monday night, he'll likely get the opportunity to do so.
JOSEPH-DAY DELIVERS CAREER-BEST PERFORMANCE
Playing in front of his parents for the first time in his NFL career, NT Sebastian Joseph-Day authored a performance that would've made them proud.
The Rutgers product posted an overall defensive grade of 85.9 and a run defense grade of 85.2 against the Bears, both career bests. In the last five games, he's averaged 78.6 for his overall grade with a 69.1 or better.
Replicating that performance would go a long way in helping the Rams' defense try to contain the NFL's No. 1 rushing offense this week.
HILL HELPING THE SECONDARY
Since entering the starting lineup, CB Troy Hill  has been in asset to the Rams' secondary in the eyes of PFF.
The scouting service says he's been targeted 34 times over the Rams' last six games, allowing just 16 receptions. In other words, opposing receivers are only catching passes from their quarterbacks 47.1 percent of the time.
Against the Bears, opposing receivers caught only three of their seven targets against Hill.