Pro Football Focus (PFF) has a team of more than 300 staffers evaluating every NFL play from the Hall of Fame game to the Super Bowl. After each game, players, as well as each team's offensive, defensive and special teams units, are graded on a scale of 0 to 100; the closer a player or unit is to 100, the better. A full explanation of their evaluation process can be found here for additional context.
Here's a look at some of the noteworthy Rams-centric assessments leading into Week 16.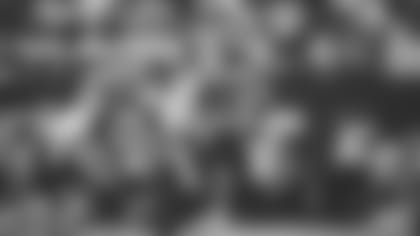 WILLIAMS FILLS IN CAPABLY FOR HILL
If cornerback Troy Hill (thumb) can't play on Saturday against the 49ers, defensive back Darious Williams should be able to fill in without missing a beat.
Playing a season-high 61 snaps, Williams posted the highest overall defense grade (91.4) and coverage grade (91.8) of any Rams defensive player against the Cowboys. A grade of 90.0 or higher in any category is considered elite by the scouting service.
Williams has primarily been a special teams contributor this season, playing 180 snaps with that unit – fifth-most among Los Angeles players who have seen action in that phase this season. His 61 snaps were more than his previous three appearances this season combined (46) according to PFF's data.
Tight end Tyler Higbee was once again the most reliable receiver for the Rams offense.
The former Western Kentucky standout's receiving grade of 79.9 against the Cowboys marked the third consecutive week he finished with the highest mark of any Rams offensive player.
Higbee had zero drops last week, but was perhaps most impressive is that it was another complete performance overall. In addition to recording his highest run-blocking grade of the season (69.6), he also had overall, receiving and pass-blocking grades of 70.7 or better for the fourth time this season.
HOWARD MAKES MOST OF LIMITED OPPORTUNITIES
Linebacker Travin Howard was only on the field for eight of the Rams' 70 defensive snaps but still managed to capitalize on those chances.
Per PFF, Howard registered a 90.1 overall defense grade and an 88.2 coverage grade, both season-highs. Both marks were second to Williams for highest among all Rams defensive players who saw snaps against the Cowboys.