Serving meals to families and children of Uplift Family Services at Hollygrove with a cheerful smile and a caring demeanor is Patrick Moya, who has dedicated his time and effort to bettering the lives of others in his community.
On Tuesday, July 17th, the Rams staff served meals at Uplift Family Services at Hollygrove and surprised Moya by presenting him with the first Community Quarterback Award of 2018 presented by SoCal Honda Dealers. In Moya's honor, Uplift Family Services received $10,000 in support of their mission and Moya was recognized on-field during the Rams home opener against the Arizona Cardinals on Sunday, September 16.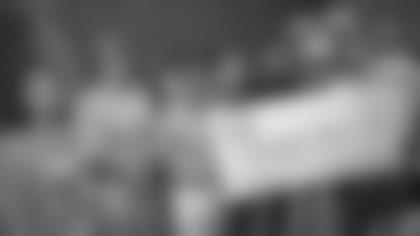 "It was really spectacular and it completely caught me off guard. I don't really have words to describe the feeling right now," said Moya. "It's not really about me at all. It's truly about these families and these kids and most importantly, this staff. I look at them as people I'm trying to emulate. For me to take one ounce of my day or my week and give a fraction back, and then to receive this kind of reward is unbelievable."
When told he would be recognized on-field at a Rams game with his dedication to service shared with fans on the public-address system, Moya responded, "It's going to take me a minute to wrap my head around that."
Kathleen Felesina, the Director of Development at Uplift Family Services, nominated Moya for the Community Quarterback Award because of the significant impact he has on the families and children on a weekly basis. He's been responsible for inspiring other volunteers in his network to come help out and encouraging members in his real estate office to donate funds to support Uplift's programs.
"Patrick cares so much about the Parent Institute and Uplift Family Services and he was stunned by the generosity of the award," said Felesina. "He cares a lot about these families and this program and really wants to see it succeed, expand and grow. When someone like Patrick volunteers, and organizations like the Rams and SoCal Honda Dealers serve, it shows our families that they matter and that people out there care about them."
As a SoCal Honda representative, Karla spends time thinking of ways to give back to the exceptional people who go above and beyond to help others. She's excited for the future of the Rams and SoCal Honda Dealers partnership as they continue to positively impact Angelenos.
"We're always looking for organizations or people that go above and beyond to help the community. We want to help the people who love helping others," said Karla.
Since the program's inception, the Rams have donated more than $380,000 to community organizations through this initiative.
The surprise event also was part of the Rams Staff Day of Service Program. Each month, the Rams front office staff takes time out of the office to volunteer with local non-profits. Since returning home to Los Angeles, Rams staff members have provided 4,341 hours of community service and impacted 24 local non-profits and 43 schools. Since the program's inception in 2009, the Rams staff has provided more than 15,000 hours of community service.
To apply for the 2018 Community Quarterback Award presented by the SoCal Honda Dealers, please click here.