As students in Southern California begin to fill their classrooms after summer break, the Los Angeles Rams are setting up youth in their community for success. On Tuesday, August 21st, the Los Angeles Rams partnered with the City of Agoura Hills and the Agoura Hills Teen Coalition to distribute 300 backpacks filled with school supplies to families in need who reside in the Conejo Valley.
The backpack drive was held at Sports Academy in Thousand Oaks, an all-inclusive sports and fitness facility dedicated to creating full-circle athletes of all ages and skill levels. The LA Rams have a unique relationship with Sports Academy because many of the Rams players train at the facility during the offseason. Jason Nyhan, Director of Advancement for the Sports Academy Foundation, believes Sports Academy is fortunate to have a facility that enables them to work with great community partners such as the Los Angeles Rams.
"We're able to give away 300 backpacks to kids who mean the most in our community," said Nyhan. "We're providing a great opportunity for them to sweat a bit, play soccer, basketball, and capture the flag, and they'll leave with a backpack full of school supplies for the year. It's a win-win for everybody."
Attending families had the opportunity to engage in physical activity and participate in arts and crafts before receiving lunch and going home with their new backpacks.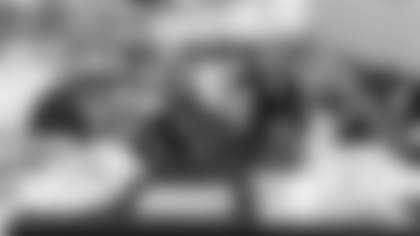 The team's mascot, Rampage, and cheerleaders Sydney and Geminise, interacted with the families by signing autographs and taking pictures.
"Teaming up with the city of Agoura Hills is really incredible because that's where our business headquarters are located, so it's great to be out here giving back right in our own backyard," said Sydney.
Geminise recognizes how important it is to give back to the community and host events like this one.
"This is my first year dancing with the Rams and I've already done so much community outreach. I love it," said Geminise. "We do a lot more than just dancing and cheering on the field. Engaging with the community is what we really love to do and we're both so happy that we have the opportunity to give back to the people who cheer us on every game day."
The event was part of the team's Staff Day of Service program. Each month, the Rams front office staff takes time out of the office to volunteer with local non-profits. Since returning home to Los Angeles, Rams staff members have provided more than 4,600 hours of community service and impacted 25 local non-profits and 43 schools. Since the program's inception in 2009, the Rams staff has provided more than 15,000 hours of community service.
"I want to give a special thanks to the Rams," said Mayor of Agoura Hills, BILL KOEHLER. "As a longtime Ram fan and former season ticket holder when the Rams were here in LA the first time, I'm thrilled to see them back in Los Angeles. I'm especially thrilled to see them back in the Conejo Valley. They have been wonderful community members and we look forward to a long association."