Not 24 hours after Sunday's win against the Seahawks, and the Rams are hitting the road in preparation for next Monday's showdown against the Kansas City Chiefs in Mexico City.
The Rams are en route to Colorado Springs, Colorado for a week of practice ahead of what is expected to be one of the NFL's marquee matchups of the season.
Head coach Sean McVay met with the media on Monday, just a few hours before the team left its Thousand Oaks facility for LAX.
"Really, the start of it was ultimately about doing the best job we can getting ready for a football game," McVay said of the team's decision to practice for Week 11 at elevation.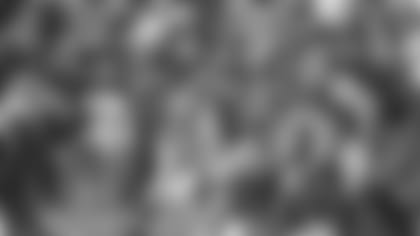 Next Monday night's venue, Estadio Azteca, is one of Mexico City's grandest sports stages, seating 87,000 spectators, and sitting at 7,200 feet above sea level.
"There's kind of two approaches where the Denver game, you go within the 24-hour period, so that you don't fully get acclimated," McVay explained. "But what is better over time, if you have the ability to do that is, go for that full week, get yourself acclimated so that you can handle playing in those elevated settings in a better way, in terms of just being able to handle it from a sports science role."
Colorado Springs sits at approximately 6,000 feet above sea level, and according to McVay, will be more than an opportunity to acclimate to Mexico City's altitude. The head coach compared the upcoming trip to last year, when his team spent a week in Jacksonville before taking off to London for Week 7 against the Cardinals.
"Staying out there — kind of a way to connect with the team," McVay said. "Getting away a little bit. This instance, definitely provides a little bit different approach where your families are so important right now. But, it was a combination of those things."
On Monday, McVay said the club intends to send a chartered plane to Colorado Springs for any family members of those in the Rams organization who were affected by recent fires in the area. On Friday, McVay said approximately 40 members within the organization were forced to evacuated their homes, including players and coaches.
"I think that'll be a good trip for us to get away, just spend more time, and build a little more chemistry," TE Gerald Everett said on Monday. "It doesn't matter where we go, we are going to train as hard as we possibly can."
The Rams will arrive in Colorado Springs Monday evening and will practice Thursday, Friday, and Saturday before heading for the country's southern border on Sunday.
Monday night's kickoff against quarterback Patrick Mahomes and the 9-1 Kansas City Chiefs is set for 5:15 p.m. PDT.