The Los Angeles Rams unveiled today their home uniform for the 2017 season.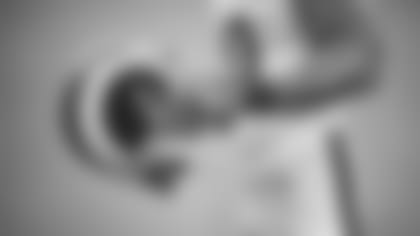 In 2017, the Los Angeles Rams will once again wear white uniforms at home as a modern nod back to the team's history in the Coliseum and in Los Angeles. The Rams will wear a white-horned navy helmet with a white face mask. The pants will be white with one navy stripe down the side. No design changes are being made to their jersey which will remain the white jersey with navy and gold accents that they wore at home in 2016.
Earlier this week, the Rams announced they were evolving their uniforms for 2017 and asked the fans for feedback.  Fans voted through Rams social media handles on Twitter (@RamsNFL) and Facebook (@Rams) between one and two stripes on the pants and between a white and navy face mask for the helmet. More than 90,000 fans voted over the past 48 hours.
The Los Angeles Rams' original blue white-horned helmets, accompanied by a grey face mask, were worn between 1964 and 1972. Many Rams Legends donned these classics, including the "Fearsome Foursome" of ROSEY GRIER, DEACON JONES, LAMAR LUNDY and MERLIN OLSEN, and quarterback ROMAN GABRIEL.
"This just goes to show all the hard work my teammates and I put in while wearing those uniforms isn't forgotten," said Gabriel. "We loved those uniforms and wore them with pride. I know the current players will wear their uniforms, especially the white horns, with just as much pride."
The Rams re-introduced these iconic helmets last season for their Thursday Night Football game at Seattle and the great response from their fans inspired the choice to wear them this coming season.
For their inaugural season back home in Los Angeles, the Rams last year introduced a new tradition of wearing white uniforms for home games. The jersey and pants were white with navy and gold accents, while the helmet was navy with a gold horn and navy facemask.
Click image for full view.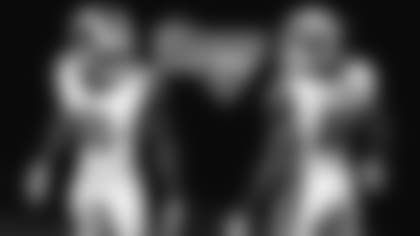 ](http://prod.static.rams.clubs.nfl.com/assets/images/fans/Rams-2017-Uniform.jpg)