As part of the Rams' celebration of Women's History Month, the organization wants to inspire Angelenos through stories of female staff impacted by sports and now changing the game for future generations.
The series continues with Accounts Payable Specialist Jessica Thigpenn.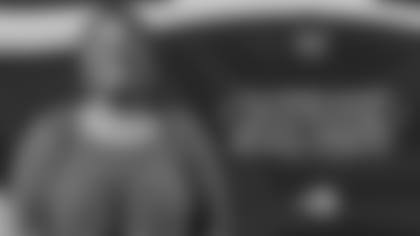 Jessica Thigpenn was temping for a company one summer, and that ccompany's accounting department decided to hire her on full time. While there, three women took the time to train her in various aspects of accounts payable – an investment that ultimately helped her land where she is today.
"I'm thankful that I was given the opportunity to learn as a completely entry-level employee with no prior experience," Thigpenn said. "Without it, I wouldn't be working for the LA Rams."
Today, Thigpenn is entering her sixth season as Accounts Payable Specialist for the Rams.
The best part of her job, she said, is the experiences she's had through working for the team.
"Working for the Rams has afforded me a lot of experiences I never would have had if I didn't work here," she said. "I've been to two Super Bowls! I never would have thought that would happen in my lifetime."
According to Thigpenn, it's important for young people to see women like her in her position because success can be achieved through different paths. She said college wasn't part of her path to get to this point in her career, so it's important for people to know there isn't only one way to be successful.
"If you dedicate yourself to what you like to do and work hard, I really believe that success will find you," she said.
Thigpenn said she is motivated by doing the best with whatever she's presented with. Working in sports and finance, she sees an overlap in what it takes to be successful.
"I was lucky enough to have the opportunity to work for the Rams come my way at the right time," she said. "Being here the last few years, it's clear to me that to be a truly great athlete you have to have a lot of integrity, and I would say integrity is a key factor when working in accounting and finance."
For Thigpenn, being herself brings a unique perspective to the workplace, "and a large part of my perspective is shaped by being a black woman." Though football has long been a male-dominated sport, Thigpenn has seen that change during her time with the Rams and wants to see that progress continue.
"We have a strong representation of women in executive level positions here," she said. "In the future, it would be great to see more women of color have the opportunity to enter those ranks."