As part of the Rams' celebration of Women's History Month, the organization wants to inspire Angelenos through stories of female staff impacted by sports and now changing the game for future generations.
The series continues with Director of Media & Entertainment Michelle Gable.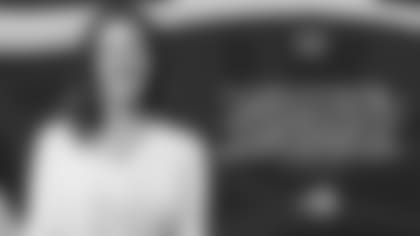 Influenced by both her career and her personal life, Michelle Gable is motivated by helping others.
"I've had a lot of amazing mentors in my career and want to provide the same level of support, friendship, and guidance to those that want it," she said. "My children also motivate me. As a working mom, I want them to see firsthand that women are superheroes, and we can do it all."
Gable carries out this mission while serving as Director of Media & Entertainment for the Rams, a role newly-created by the organization in July 2022 that helps generate revenue for it by bringing in partnerships with studio, streaming, TV and gaming partners.
Getting to that role was thanks in part to the aforementioned mentorship, especially supportive women she's worked with throughout her career.
"I've been lucky to work alongside some incredible women that provided support, encouragement, kindness and ultimately cared about my personal growth and I strive to do the same for women around me," Gable said.
Gable finds value in voicing her perspective and listening to others. She said that she likes to listen, but also likes to be heard and wants to empower women around her to do the same.
For Gable, the best part of her job is building the Rams' M&E strategy in a collaborative effort with their cross-functional teams like Content, Social, Game Presentation, Brand Strategy, and so on. It's no surprise that ties into teamwork, because it was a valuable skill she gained and appreciated from her time playing basketball previously.
"This will sound cliché, but I truly live by the motto that there's no 'I' in TEAM, and I love our 'We not Me' value as well," Gable said. "Basketball was my sport growing up and I quickly learned the importance of playing amongst a team and enjoyed the camaraderie that we formed amongst one another. This same philosophy has applied throughout my career, as I am aware that it's not my individual effort that closes deals… it's always a team effort in vetting ideas, selling them through and successfully delivering on partner expectations."
Football has long been a male-dominated sport, but Gable has seen things change both in the organization and beyond.
She said she "loves that we have a lot of women in leadership positions at the Rams which is not common, especially in sports." Overall, the tides are shifting with more and more women in leadership positions, but there is still work to be done.
"It's important for young women to know they can achieve whatever they work towards," Gable said. "Ultimately, it's the work and dedication that should prevail and if we know what we're working towards, I believe the tides will continue to shift."