As part of the Rams' celebration of Women's History Month, the organization wants to inspire Angelenos through stories of female staff impacted by sports and now changing the game for future generations.
The series kicks off with Manager of Football Analytics Sarah Bailey.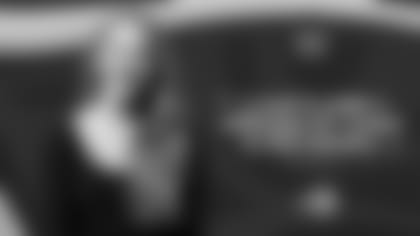 The inspiration for Sarah Bailey's career traces back to a conversation she had with her statistics professor in college, whom Bailey credits as the most influential woman for her professionally.
"We were writing a paper together and before we began, she asked me what I liked, to which I responded sports and math," Bailey said. "She encouraged me to combine the two and at the time I had kind of laughed it off like, 'that's not a realistic career,' but the sports analytics seed was planted then and I thank her everyday for it."
Today, Bailey is Manager of Football Analytics for the Rams, with whom she's been with for over five years. In that role, she is responsible for analyzing and presenting on all data on the football side including scouting/personnel, medical, and coaching.
Bailey said she always likes to say her experience breaking into the industry was the result of being "lucky" with timing and job applying, but she doesn't believe it's the entire story. It began with her education and putting herself out there and was supported by her putting herself out there and applying for jobs.
"I knew I wanted to be in football, but I also knew that any sports related research or job would bring me closer to that if football wasn't available," Bailey said. "I always encourage young women to take a risk on themselves, apply to the job you may not have every qualification for, and be confident."
Young people seeing her in her position is crucial because it makes the career a reality, according to Bailey.
"I know when I was growing up, even when I was in college, there was no precedent for a role like this, especially for women where we're historically underrepresented in both sports and technology," she said. "Seeing this career as a viable option makes it easier to try and pursue and can stretch your internal limits of what's possible in a career. I think regardless of your gender, it's important to normalize women being in this position to remove some of the bias or standards women are often given in roles that are male-dominated."
While football has long been a male-dominated sport, Bailey has seen that paradigm shift during her time with the Rams due to the increase in women in the organization as well as the NFL.
She said that when she first started with the organization, there were only a handful of women on the football side of it, and she also believed that she was one of only two women in football analytics across the league. Now, there's a lot more women both on the Rams and in Football analytics across the NFL.
Still, more can be done to further that evolution.
"The biggest evolutionary thing I'd like to see done is setting women up for success," Bailey said. "I think across the league, women on the football side are typically filled in lower-level positions and not given much guidance or mentorship to be successful at the next level. I know how important this is for growth in sports and I don't necessarily think it needs to be something formal, but leaders providing the same opportunity and communication as they do to male counterparts is key in seeing women continue to evolve and grow."
Bailey's background as a college athlete and her sources of motivation work in tandem.
Running track in college taught her many lessons that have helped her succeed in this industry, such as shaping a strong work ethic and preserving through periods where one has seemingly plateaued. As both an independent and team sport, it taught her how to work work well on a team but also thrive working alone.
"The alone part is particularly important with data on the football side as often you're stuck on a problem, and you only have yourself to look for a solution," Bailey said.
In turn, that helps fuel the two things that motivate her the most: wanting to make a difference and wanting to win.
"For the latter, we're in an industry where the main goal is to win," Bailey said. "Obviously, a clear measurement of that is in games won, but I think people dismiss the daily wins you can have too. Whether it's finishing a project, getting invited to a meeting, or learning a new skill, each of these can motivate me.
"Making a difference is a little more nuanced than winning, but it's something I've realized over the years encourages me on my most frustrated days. For myself, I want to make a difference for women in this industry. I think to truly do this, you must be in a position where you're able to make change, which inevitably takes time to get to. In the meantime, I'm motivated by making a difference on a micro level through providing mentorship or speaking at conferences."
Bailey said there's no single path or skillset that is the blueprint to pursuing a path similar to hers, but what's critical first and foremost is gaining the technical skills.
"Luckily, in this role, your skillset from a math and statistics side is fairly measurable so having the education and research experience should be a priority," she said. "For the research side, there are so many sports specific data competitions now (NFL Big Data Bowl, Big Data Cup, etc. etc.) where you're given real datasets to practice on. Finally, learning to communicate your results to all levels is so important."
When it comes to celebrating women's history month, Bailey offers three simple ways.
"Support women, cheer for women, believe women," she said.