The Rams closed out 2018 and quicker than any time in recent memory, turned their heads to 2019 with a short list of positions that will require a bit of attention headed into a second defense of the NFC West title and a second run at the Super Bowl.
The offseason to-do list had head coach Sean McVay and general manager Les Snead on the hunt for both a safety and edge rusher entering the offseason — both positions the Rams addressed ahead of Wednesday's free agency window opening.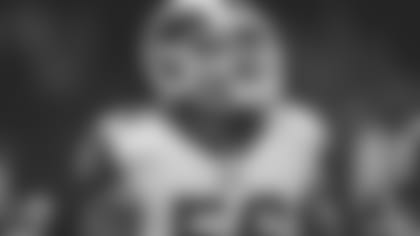 On Tuesday, as McVay and Snead introduced Eric Weddle as the club's newest safety, the pair made it clear they had high hopes to fill their potential upcoming vacancy at edge rusher with their in-house option all along.
"From the beginning we wanted [OLB] Dante Fowler to be back," Snead said of the former No. 3 overall pick who agreed to terms late Sunday night. "So obviously you are monitoring who might be available, things like that in both free agency, trades, and even the draft, but Dante was a priority for us to try to get back for the 2019 season at minimum."
Snead said it was Fowler's play in his nine weeks and postseason run as a Ram that led to inking the one-year deal. The trade-deadline addition turned into 2.0 sacks, five quarterback hits, a forced fumble, and 21 tackles in the regular season for the NFC West Champs — as well as 1.5 postseason sacks and a quarterback hit in New Orleans that helped send the Rams to Super Bowl LIII last month.
As for the head coach, he likes the way Fowler looks lined up alongside his two-time AP Defensive Player of the Year, Aaron Donald, and believes it's only up from here for his outside quarterback hunter, who spent more time in a starting role as a member of the Rams in 2018 than he has since his days as a Florida Gator.
"I think when you look at what Aaron has been able to do then you add an element of what Dante is able to provide, specifically coming off the edge for us — you can't have enough guys that can influence and affect the passer," McVay said.
"So I think he made a lot of plays, I think he's only going to get better and I think this is a place where he wanted to be and we wanted him here and we are excited about continuing that relationship."