Though Brandin Cooks, Cooper Kupp and Robert Woods traditionally have seen more snaps at wide receiver for the Rams, Josh Reynolds has long been viewed as a starter by head coach Sean McVay.
On Sunday, Reynolds showed exactly why.
After Cooks was knocked out of the game with a concussion on the third play of the contest, Reynolds filled in capably with three receptions for 73 yards and one touchdown in the Rams' 24-10 win over the Bengals at Wembley Stadium.
"Just gotta be ready at any point," Reynolds said. "Try to step in without any falloff."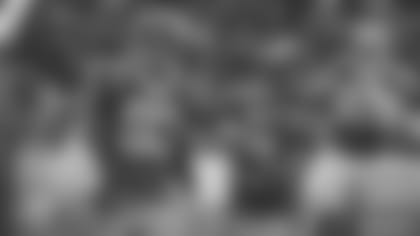 Indeed, there would be no drop off when Reynolds was called up early in the game.
On Los Angeles' second offensive series, QB Jared Goff connected with Reynolds for a 31-yard touchdown pass down the seam, taking advantage of a mismatch made apparent prior to the snap.
According to Goff, it looked as seamless as it did because the Rams had practiced it during the week.
"We got the look we wanted, we got him matched up with the right guy and he made a great play, ran a great route," Goff said.
Reynolds hoped Goff would be looking his way as he was running that route.
"Oh, green grass, man," said Reynolds, when asked what he saw on the play. "Soon as I passed that linebacker, I was just hoping that ball was in the air. Luckily Jared saw that and made a good ball for it, so it was awesome."
Reynolds saw eight targets by the end of Sunday's game, second only to Kupp's 10. He also played a season-high 53 snaps, more than his previous three games combined. It exceeded his previous single game best this season by 26.
Kupp, who was a draft classmate of Reynold's in 2017, said the 6-foot-3 Reynold's skillset is different from that of a typical taller receiver.
"When he sticks his foot in the ground, he's able to really accelerate out of his cuts, he's able to do some things that I think a lot of taller receivers aren't able to," Kupp said. "And he's fearless. You saw that catch down the middle. He knows that safety is coming from that backside and fearlessly goes up and makes the play. That's a huge attribute – you can't teach that. That's what makes Josh pretty special."
Regardless of where the scope of Reynold's involvement goes from here, he'll be ready.
"You definitely never expect or hope for your guy to get hurt like that," Reynolds said. "Like I said, it's a next man up kind of thing. I'll definitely be ready. I'll be ready to step in and fill whatever role they need me to fill."