The NFL's most noteworthy rule change heading into 2019 makes both offensive and defensive pass interference reviewable, in addition to bang-bang non-calls.
The rule change spawned from the final minutes of the NFC title game back in January, when cornerback Nickell Robey-Coleman was not flagged for apparent early contact with Saints receiver Tommylee Lewis.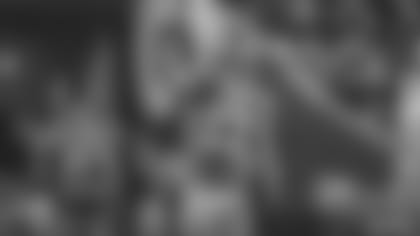 On Wednesday, NFL Network's Steve Wyche asked wide receiver Robert Woods about the rule change from the offensive perspective.
"I think it's very critical, especially in crunch time. There's going to be a lot of situations that come up like this — there's a lot of contact, a lot of hand fighting going on throughout the play," Woods said. "Especially if it comes down to a 'Hail Mary' with eight guys tussling over one ball, we'll see how they call it then."
Woods led all Rams receivers in 2018, as a Swiss Army Knife of sorts, in and out of the slot with wide receiver Cooper Kupp on and off the field in his second season. The former USC standout and Los Angeles native set a career high in receptions (86), receiving yards (1,219), and touchdowns (6) in year two under head coach Sean McVay.
While Wyche, Woods, and three-time Super Bowl champion Willie McGinnest laughed on the set of 'NFL Total Access' about the Rams' top wideout throwing up his hands in 2019 looking for more DPI calls, Woods says a rule's a rule.
"I just might be. They put that rule in, they're going to call it, they're going to have that review, I know there's contact from a DB on every single play past five yards, so we are going to put pressure on the defensive backs, put the pressure on the referees — make them make the call."