Sebastian Joseph-Day's hard work is about to be rewarded after grinding behind the scenes over the past several months.
The second-year defensive tackle won the starting nose tackle battle during training camp and will be making his first career start Sunday at Carolina.
"Just excited, man. Words can't explain," Joseph-Day said. "Such a big opportunity, such an awesome opportunity. It's a blessing. Just ready, ready to go to work."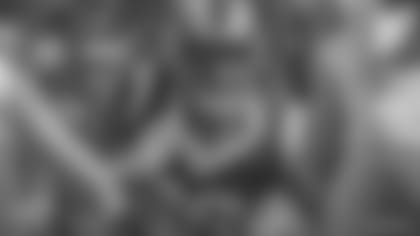 Sunday's game, specifically the role in front of him, has been a long time coming.
A 2018 sixth-round pick, Joseph-Day spent all 16 regular season games – plus the Rams' three postseason games – during his rookie on the inactive list. However, opportunity knocked this spring.
Los Angeles' previous starting nose tackle, Ndamukong Suh, had only signed a one-year deal last offseason. When it expired, he joined the Tampa Bay Buccaneers as an unrestricted free agent.
Still, even with Suh's departure, Joseph-Day knew being a starter wasn't a given, so he did everything he could to increase his chances of getting the job. He worked with head team dietician Joey Blake to improve his nutrition, then wrote down everything he was told he needed to work on and collaborated with the strength staff to make that happen.
"They did an outstanding job," Joseph-Day said. "A lot of the credit goes out to the strength staff and goes out to Joey. Just working on those things daily, then when OTAs came, same thing. Still being on top of those minute things you need to work on as a defensive lineman and still training at the same time."
His mindset and attitude caught the attention of, and have even inspired, his teammates.
"Hard-working, exciting guy," second-year center Brian Allen said. "He's someone who's always going to do the right thing, someone who's always doing extra work. That's something you see and it drives you, knowing other guys are working hard. Hard-worker, he's going to do his job."
Joseph-Day gets a formidable first test in the Panthers' offensive line.
Despite the departure of starting center Ryan Kalil, his replacement Matt Paradis and the rest of the unit were regarded by Pro Football Focus as the NFL's 10th-best heading into 2019.
This is what Joseph-Day has been preparing for all along, though, so he probably wouldn't want it any other way.
"It's a great challenge because they are solid on their interior line, but it's really a great opportunity for him to get a chance at some of his first real live game action," Rams head coach Sean McVay said. "If he continues to just carry over where he's left off from what he's done in training camp from the offseason program, we are expecting a lot of positive things from Sebastian."