INDIANAPOLIS – Barring an unforeseen trade, the Rams will not pick in the first round of the NFL Draft for the second year in a row.
Yes, it will affect their approach to the draft, but history has shown it shouldn't inhibit their ability to find talent.
"It does change," Snead said during his podium session with the media at the NFL Scouting Combine last week. "There will be some players that we ultimately will not really spend a lot more time vetting or evaluating because you've got a gut feeling they're not getting to 50. What you have to do then is the realistic players, really start spending your time vetting him."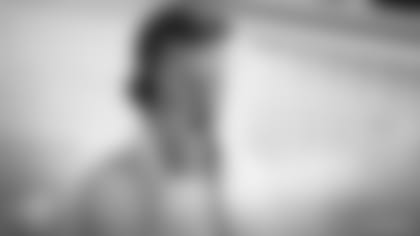 The plan the last few years, according to Snead, has been about collecting as many picks in the top 100 or first three rounds as possible. Those selections have been acquired in various ways, including trading out of the first round.
Last year, the Rams sent their No. 31 and No. 203 overall picks to the Falcons for Atlanta's No. 45 overall and No. 79 overall picks. L.A. then made a second trade to acquire more draft capital and move back further in the second round, dealing that No. 45 overall pick to the New England Patriots for their No. 56 and No. 101 overall picks. The No. 56 overall pick acquired in that trade was sent to the Chiefs for their No. 61 and No. 167 overall picks.
The Rams used that No. 61 overall pick to take University of Washington safety Taylor Rapp, who finished as their third-leading tackler in his rookie season. They later sent their No. 133 overall pick and the No. 101 overall pick back to the Patriots to move up to No. 97 overall, which they used to select Oklahoma offensive tackle Bobby Evans. Like Rapp, Evans emerged as a starter late in his rookie season.
Beyond last year's class, another notable example of the Rams' ability to ability to identify talent outside of the first round was Los Angeles' leading receiver in 2019 – Cooper Kupp – who was a third-round pick, No. 69 overall, in 2017.
"We traditionally said it might be better, the math would say better, to trade back, collect as many picks in the second and third round," Snead said. "So you may have four picks in the second, third round a little bit later instead of just two. But we've also in the past been pretty aggressive in going from 15 or 16 to 1 to pick a quarterback (in 2016). Probably depends on the year."
With 51 selections coming before the Rams are on the clock and depth at multiple positions, Snead was asked if the Rams can afford to take more risk at their current draft position.
"Good question on boom-or-bust," Snead said. "When you have less draft picks you have to run that equation. Do you just get a solid, sound pick because you have less picks in the mutual fund, so it's probably better to go just solid, sound. But you can always be tempted if someone fell that is more boom or bust, probably because you're saying he's got some element or better skills than where you would be picking him but something caused him to fall. But that becomes a volatile investment that you've got to weigh."
Whether or not they take those risks remains to be seen until late April. In the meantime, expect Snead and the rest of the Rams' evaluators to do their due diligence over the next 6-7 weeks.