While the NFL's international series may seem like common knowledge to football fans around the globe today, thirty years ago the word "football" had only one meaning in England — soccer.
That was the case until 1982 — the year the American football explosion began in London with the playing of the inaugural American Bowl at Wembley Stadium. By 1987 the game had become one of the biggest sporting attractions of the year and it was the Rams turn to be a part of history.
"It was an unbelievable feeling," former offensive tackle and Hall of Famer Jackie Slater said of his initial reaction to the trip. "I think everyone was a little shocked. Many of us had never even been out of the country so we were very excited about it. And to be able to go there and play the game we loved and impact a different culture, it had just an air of responsibility associated with it as well."
The American Bowl was a series of NFL preseason exhibition games held outside of the U.S. between 1986 and 2005. The goal of the series was to promote American football in other countries and among different fan bases.
And while it was just an exhibition game, the 1987 matchup between the Denver Broncos and the Rams — two of the best clubs in the league at that point — had a much more "serious tone" to it.
"They had the three amigos [Vance Johnson, Mark Jackson, and Ricky Nattiel] and they had John Elway so as a defensive back, it didn't matter if it was a preseason game, regular season, playoff or whatever, it's always competition," former Rams' defensive back LeRoy Irvin said.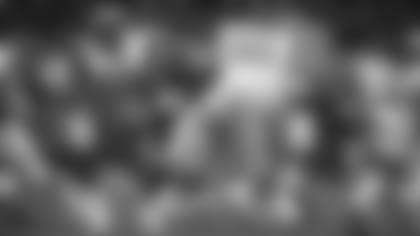 "We knew the magnitude of taking our game on the road and out of the country," Slater added. "We saw it with our own eyes — the way we were greeted, the way the fans interacted with us — and there were a lot of people there that were familiar with many of the players on both rosters."
But for a hardworking Rams team that was coming off of four consecutive playoff appearances, a trip across the pond also marked a chance for the roster to bond as both friends and teammates.
"Once we embraced it then we looked at it and said, 'Well let's go have some fun then,'" former quarterback Jim Everett said. "We looked at it as a playcation."
A playcation that began on the Monday before kickoff and lasted seven days to the morning after the game was played.
"We went for a week and we had a lot of free time," former running back and Hall of Famer Eric Dickerson said. "We went out to clubs, we walked outside the palace and we did get to look at some castles."
"Coach Robinson allowed us a lot of time, so we took tours around the city, went to a bunch of the pubs, walked around Buckingham Palace and did all of those things that tourists would do," Irvin said of the team schedule. "Plus we were getting a lot of response from the locals because of course we wore our Rams stuff to promote the team."
For Slater, there were two landmarks he was ready to check off of his list immediately after getting off of the plane.
"If you go to London you have to go to the London Bridge and see Big Ben right? If you don't do anything else, we had to say we did those two things," he said with a laugh. "Those were just two of the sights I had always heard about and you have to go over there and take a look at them. So I had the opportunity to do that and get some photos."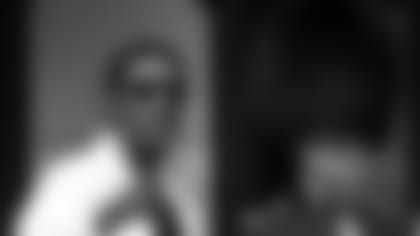 But it wasn't just the sights that these Rams remember. It was the incredible response from the natives as well.
"From my vague memories, the people there were all fantastic," Everett said. "England was a place where we didn't have to have a language barrier like we had in some of the other series, so that was cool."
Everett said one of his fondest memories from the trip was walking along the historic streets in London and witnessing the natives' reactions to him and his fellow teammates.
"I mean we're huge human being compared to them and they were in awe. What I found was that the locals wanted to embrace you and there was a lot of excitement," he said. "And then for them to see some of my teammates, some of the Jackie Slater's of the world, just these gigantic people. They were just in awe."
And though the British fans may have been awestruck to see some of Everett's teammates walking their streets, they were equally as excited to see them playing on field.
Each of the American Bowl games took place in London's historic Wembley Stadium, an arena that has hosted the Summer Olympic Games and the World Cup. Plus in 1987 as the Rams and Broncos took the field, the arena was filled to its capacity with more than 75,000 fans in attendance.
"It was almost like we were in the middle of a rock concert, but yet we were on the stage. We were thinking, this is crazy," Everett said of the atmosphere. "Playing in a venue like that was a once in a lifetime moment. So that was really cool to be able to present our sport to people who really didn't have a clue about some of the nuances of our rules."
"I was surprised that so many people showed up knowing that they didn't really know about the game," Irvin said. "What I really admired about them was that they gave us the respect you wouldn't think they would give you as a team from a foreign country. And I'm not sure if they were cheering for us or the other team. I'm not sure if they even knew what they we're cheering for."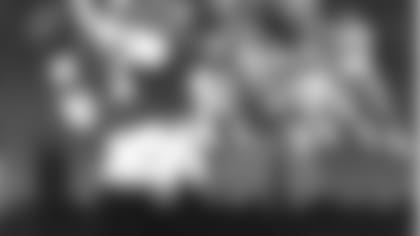 And while all four of the Rams players will never forget playing in Wembley, they said what resonated most for them was the passion and excitement they felt from their British fans. 
It didn't matter that the concepts of American football were new to many of those in attendance, what mattered was that they were able to play the game they loved in front of fans who truly wanted to see them there.  
"Playing in a stadium like that, it was one of the largest crowds that I have ever played in," Slater recalled. "Being over there with so little on the line and so little at stake, but to have a crowd like that show up was really special. It told us all a lot about how popular our sport really was."
"A lot of fans didn't know football," Dickerson added, "but the thing that made it so great to play there was that when you came on the field, everybody started cheering. I remember the sheer size and sounds of that place, it was astonishing."
The Rams ended up taking home a 28-27 victory over the Broncos in the 1987 American Bowl contest. But thirty years later, it's not the win they hold to their hearts. Instead, it is the legacy they left behind. 
"I'm very proud of that," Irvin said of the Rams being one of the first global franchises. "My hat goes off to our owner at the time, Georgia Frontiere, for being the pioneer of this effort to play abroad. I'm honored and thankful that I had the chance to be a part of history." 
"Georgia wanted to be the globetrotter, she wanted us in London, and she wanted to be the first one doing all of that," Everett said. "We did get to see some places that I may never see again and you got to see a little bit of the world, practice with your teammates and hang out with your guys to make lifelong moments."
And while the Los Angeles Rams may have been one of the first clubs to take American football to fans outside of the U.S., all four players can agree it's a trend they hope will continue for many years to come.  
"I know it's a hard trip, it really is," Dickerson said of the international series. "[But] it's important for the players to go to London as a team, so that those fans can experience the NFL in person. Being there as a fan is nothing like watching it on television, it's way different. A lot of the foreigners would like to see us, so I think it's important to really get a chance for them to see us live."
"I think it's monumental," Slater added. "I think it's just incredible that they are staying on the path to exposing some of the finest American athletes and arguably the finest American sport to the world."