As free agency enters its third week and the dust settles around the market, the Rams seem to have wrapped up their early offseason roster construction.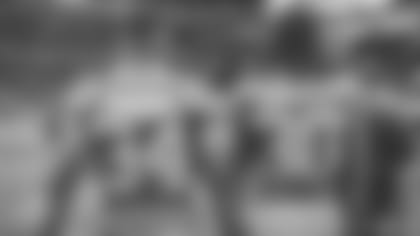 On Tuesday, head coach Sean McVay addressed the club's most recent move to keep Malcolm Brown when asked about the team's running backs heading into 2019.
"I think right now you feel really good about Todd [Gurley] and Malcolm — what they can both provide specific to really both being all-purpose backs," McVay said from the NFL's owners meeting in Phoenix.
McVay didn't explicitly say the Rams won't return running back C.J. Anderson for more football in L.A., saying the club is always looking to add playmakers. Instead, the head coach pointed to Brown's production over four seasons in horns alongside Gurley — suggesting matching the Lions' offer sheet last week may have rounded out the running backs room.
"He could truly do everything — protection, running the football, he made a big catch as early as the Oakland game on third down and short," McVay said, encouraged about Brown's performance in 2018 before he joined the missed the remainder of the season after injuring his clavicle Week 13.
"So we are really excited about getting Malcolm Brown back," he added.
Despite finding the end zone on just three occasions in four seasons with the Rams, Brown has done his job backing up his superstar counterpart. Brown's 2018 was one of his best providing support from the bench when Gurley needed a blow. He averaged 4.9 yards on 49 carries and came up just short of his career-high 246 yards rushing mark.
The running back duo that joined the club together in 2015 is currently poised to tout the rock as RB1 and RB2 for another go around in Los Angeles offense in 2019 ,and it's a pairing that McVay says has worked well on and off the field.
"It goes back to the mutual respect that they have for each other," McVay said. "They both have fun personalities that just kind of click well together and I think they get genuinely excited for each other when everyone else is doing well."