THOUSAND OAKS, Calif. – It has been a long journey as new Rams assistant special teams coach Tory Woodbury gets settled into his new role with the organization.
However, he makes two things clear: His path is one he doesn't take for granted, and also one he wants to use as a way to set an example for others, not put the spotlight on him.
"It feels great," Woodbury told theRams.com on Tuesday. "As a surprise move as it came, it just feels like I'm home where I'm belong, interacting with the guys on the field. I feel great about the situation."
This is the story of how he arrived at where he is today.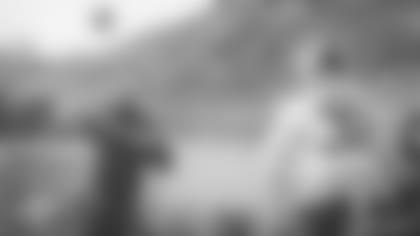 Navigating the ups and downs
During his senior season at Winston-Salem State University, quarterback Tory Woodbury was highlighted by ESPN NFL Draft analyst Mel Kiper Jr. in his weekly series focusing on a "sleeper" prospect leading into the 2001 NFL Draft.
In addition to detailing Woodbury's standout performances as a junior and a senior, Kiper also predicted Woodbury would test well because of his multi-sport background, having also played basketball in high school. That athleticism could also make playing wide receiver or safety a possibility as a result, according to Kiper.
"You can rest assured that a multi-talented athlete like Woodbury will certainly be watched very closely the remainder of the season as well as during the postseason all-star games and combine/individual workouts," Kiper wrote.
Woodbury signed with the New York Jets as an undrafted free agent in 2001, spending two seasons with the franchise before getting released. He also had stints with the New Orleans Saints and Buffalo Bills, the Ottawa Renegades of the Canadian Football League, the Cologne Centurions (NFL Europe) and the Arena Football League's New Orleans Voodoo before retiring after the 2006 season.
It would be a while before Woodbury got re-involved with the sport, though, after tragedy struck his family and led him to taking a small hiatus post-retirement.
"My little brother was taken from me, unfortunately," Woodbury said. "Murdered."
When he returned to football, he started out coaching at the high school level before moving on to Division I-AA Delaware State in 2011. Woodbury remained at that school through 2014, then spent the 2015-17 seasons as an offensive coordinator at Johnson C. Smith University.
In that seven-year span, Woodbury said he juggled his coaching responsibilities with five different internships, including being a minority intern for the Jacksonville Jaguars in 2012, a scouting intern for the Cleveland Browns in 2014, a pro scouting intern for the Rams in 2015 and a scouting intern for the Senior Bowl Scouting Academy in 2016.
"Sometimes I would coach, do my intern (duties) from about 10 (p.m.) to 2 a.m., wake back up, finish my coaching priorities," Woodbury said.
One would assume being a former professional football player would have its advantages, but Woodbury discouragingly discovered the opposite at first.
Woodbury said he would go into interviews and some schools and teams would tell him he was overqualified, or because he was late in the game, going in another direction. Being told he was overqualified especially stung – Woodbury said it was "extremely disappointing and upsetting, especially being a former player."
"Every time I was told that, I would just go back to the drawing board, like, alright, I am doing something wrong, do I need to work on something?" Woodbury said. "I just kept faith and just kept plugging away. But the hard part is not letting your frustrations stalemate you. I always use that as fuel, when people tell me I can't do something. It just motivates me."
Fortunately for Woodbury, he was able to productively channel that frustration and had help from key mentors such as former Washington Redskins quarterback Doug Williams, Rams Director of Pro Scouting Ray Agnew, and the late Sam Wyche, who coached the Cincinnati Bengals and Tampa Bay Buccaneers.
The experience with the Rams, however, would pay off. They interviewed him again in 2017 and brought him on as a college scout that year, the start of three seasons working in L.A.'s scouting department.
At the end of the third season – 2019 – his patience and faith would finally be rewarded.
Breakthrough, and what's next
When special teams coordinator John Fassel was hired to the same position on the Dallas Cowboys' new coaching staff this winter, he brought assistant special teams coach Matt Daniels along with him – thus creating two voids the Rams needed to fill for that unit.
To fill Daniels' role, they promoted Woodbury.
"It was just over-joyous for me, because I just thought back about my my path to get here and (I've) been through a lot, overcame a lot," Woodbury said. "So it was just an emotional (moment), I had tears flowing. I was just excited."
When asked about his aspirations, Woodbury didn't want to look too far ahead. Though he always prepares "like I'm the starter" in every role he's had, he'll let his faith continue to guide him.
Right now, he's focused on excelling in his current role.
"Whatever happens, God will let me know," Woodbury said. "I'm just going to dominate this role as best as I can."
And maybe inspire a few people along the way.