When you're a cornerback in the NFL, you need to have a short memory.
That was the topic last week with Marcus Peters, who spoke of how he knows how to leave bad plays in the past.
And the same conversation surrounds L.A. corner Troy Hill, who Denver picked on during Week 6.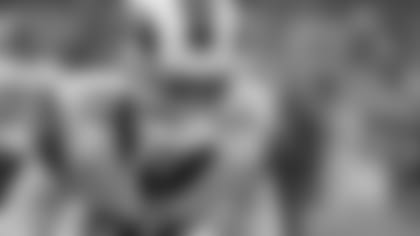 With five-time Pro Bowler Aqib Talib currently on injured reserve as he rehabs an ankle injury, the Rams have been rotating in corners Hill and Sam Shields opposite Peters. For the last couple of games, Hill has played on early downs with Shields coming in for more known-passing situations — like on third down — as part of Los Angeles' dime package.
Part of that has to do with how Hill has excelled in coming up and defending the run and the quick-pass game.
"I feel like I've been doing a good job against that type of stuff," Hill said, "but I want to go out there and execute to what I feel like I am capable of doing."
He means on the deep passes. Last week, Denver targeted Hill on a number of shots on the offense's left, and hit three passing plays for at least 40 yards.
And yet, on what looked like a 44-yard touchdown to wide receiver Emmanuel Sanders, Hill actually touched the wideout down at the one-yard line. And because Sanders incurred a 15-yard taunting penalty, L.A. was able to hold Denver to a field goal.
Head coach Sean McVay and defensive coordinator Wade Phillips gave Hill credit for keeping his cool in that situation. And for continuing to battle throughout the game.
"Really, what you have so much of an appreciation and respect for with Troy, is you talk about the poise that he demonstrated even when they complete the ball down the left sideline," McVay said. "He keeps an even-keel demeanor throughout the whole situation. It bumps them back to the 16 that ends up leading to a field goal as opposed to a touchdown and you win by three. So, that's a great job by Troy handling that situation like a stud."
"He made one of the big plays in the game … when there was a taunting penalty and he didn't retaliate," Phillips said. "Showed them what kind of poise [he had] and what kind of person he is — not to come back on that."
And when it comes to the receptions, McVay expressed why he still has confidence in Hill as a corner, following the performance against Denver.
"Everybody wants to see a couple plays where Case [Keenum] makes a couple great throws down the sideline," McVay said. "Emmanuel Sanders makes a great play down the left sideline and then you look at Demaryius Thomas later on and then [Cameron] Sutton. Those are contested-type plays. It's one thing if you're just getting beat, it's another thing when you've got guys that are going up and some 50-50 balls.
"Troy Hill is a good player that's made a lot of plays and he's winning those opportunities more times than not," McVay continued. "He made some of those plays last week against Seattle."
That he did, deflecting a deep pass down the sideline to wide receiver Brandon Marshall in the second quarter. That's part of why Hill will continue to get his opportunities.
"I trust him," Phillips said. "He's played, and he's played really well at times, and I think he'll do better and better."
Still, Hill himself made no excuses, saying, "As a competitor, I know what I can do, so I just need to go out there and be consistent."
"You're playing football out there and at the end of the day, you just got to go out there and execute as a pro, and that's the only thing I'm thinking about doing right now," he added.
Given the rules and the nature of the game, there are going to be times where cornerbacks let up receptions. What McVay always talks about is the ability to respond in a positive way. And that's where the head coach still feels Hill can excel — much like Peters.
"What you love about Marcus, why he's an elite player," McVay said, "is he's kind of got that ability to say, 'Hey, it is what it is. We move on.' Now, I know he used some different language, alright, but the point that I'm making is this: If you're going to be a great player in this league, there's too many other great players. You've got to have a short memory. You've got to have the ability to be mentally tough and respond. We feel like Troy Hill is one of those guys as well. Yesterday where guys made a couple good throws and catches doesn't dictate or determine what type of player he is when you look at his entire body of work, specifically for us as a coaching staff over the last couple years."
"You have to have a short-term memory at this position, so I just go out there and do what I know how to do — play football," Hill said. "I'm going to come out there and do my job and execute a lot better. Like I said, it's more so I feel like it was on me and my technique, things I can clean up and go out there and fix."