Escrito en inglés por Stu Jackson, escritor de equipo para los Rams de Los Angeles.
GLENDALE, Ariz. – El corredor de los Rams, Cam Akers, escuchó la especulación de que había perdido un lugar después de su desgarre en el tendón de Aquiles el año pasado.
Por lo cual, decidió hacer algo al respecto.
En la victoria del domingo, 20-12 contra los Cardenales de Arizona en el State Farm Stadium, Akers comandó el ataque terrestre del equipo con 12 acarreos (líder del equipo) para 61 yardas y una anotación mostrando destellos de explosividad que hizo a los fans recordar su campaña de novato en el 2020.
¿Simplemente lo regular, sabes? Dijo Akers, "Todo el mundo sintió que perdí mi camino o cualquier cosa, pero en realidad no. Para mí simplemente es hacer lo que mejor se hacer".
Cuando mejor se vio el corredor seleccionado en la segunda ronda fue en el drive de la segunda anotación de los Rams.
Después de que los Rams vieron su ventaja se disminuía a 4 puntos después del gol de campo de los Cardenales, se apoyaron en Akers en la posición siguiente, especialmente antes del final, cuando realizo dos carreras de 14 yardas cada una, de la cual, la segunda termino en anotación y en total tuvo cuatro acarreos para 39 yardas en las ultimas cuatro jugadas de ese drive.
Akers dijo que pudo sentir en momentum de esos acarreos y la manera en la cual impactaron a la defensa de los Cardenales. De igual manera el Mariscal de Campo de los Rams, Matthew Stafford, vio el efecto positivo que tuvo en su ofensiva.
Fue genial dijo Stafford. "Creo que sentimos el ritmo del juego, "estamos haciendo un gran trabajo al frente moviendo al rival". Y realmente el crédito es para los muchachos tanto de la linea, como del perimetro haciendo bueno bloqueos. Fue un gran plan de juego de Sean McVay y de los entrenadores para ir cuesta abajo, ir directo contra el rival y después dejar que Akers hiciera lo mejor que sabe hacer cuando encuentra espacios, lo cual fue muy divertido ver".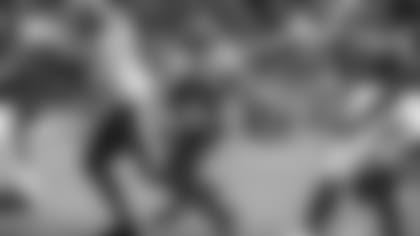 Akers tuvo un balón suelto en la yarda tres de los Cardenales en la segunda mitad, pero dijo que sabe que es algo que no puede pasar y que tiene que aprender de ello. Aún así, los Rams mantuvieron la fe en él.
"Que voy a ir contigo nuevamente y te tengo toda la confianza del mundo" McVay dijo, cuando le preguntaron que le dijo a Akers después del balón suelto. "Aprendamos de eso, has hecho demasiadas cosas buenas en el partido para que esto te minimice, cuando, si tenemos que volver a la cancha en una situacion dentro de los ultimos 4 minutos, él será el jugador en el cual nos vamos a basar".
"Major shoutout to the o-line for opening holes, moving guys all night," Akers said. "Made it clear for me to see, and I just hit it."
En general, las 5.1 yardas por acarreo de Akers el domingo fue su mejor promedio desde que registró 5.0 yardas por acarreo (18 acarreos para 90 yardas) contra los Empacadores de Green Bay en la Ronda Divisional del 2021.
"Un gran reconocimiento a la línea ofensiva por abrir los espacios y mover al rival toda la noche". Dijo Akers. "Permitiendome ver los espacios y atacarlos"