Veteran left tackle Andrew Whitworth wrapped up his 13th NFL season from a Super Bowl LIII podium on Sunday night, and the 37-year-old team captain who's played in more than 200 professional football games was asked if the Rams' 13-3 loss to the Patriots would be his last.
"I don't know. Some guys in the locker room were begging me to not say anything like that, so I have no idea. I really don't," Whitworth said. "I still love playing. I still love the game. I still feel great. I still play at a high level and who knows, we'll see. I'll let the offseason play out and kind of see what's best for the franchise, what's best for me, and see what happens."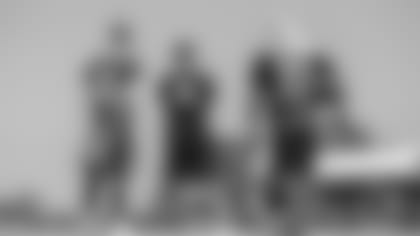 Whitworth spent 11 years of his career in Cincinnati after being selected No. 55 overall in the 2006 NFL Draft before joining the Rams in 2017. The 6-foot-7, 330-pound pass-rush deflector is a four-time Pro Bowler and two-time All Pro. In his second season in L.A. as a protective cornerstone of quarterback Jared Goff's offense, it's no surprise members of the NFC Champs want Whitworth back for another run at the Lombardi.
"It's going to be a goal of mine to try to sway those guys [Whitworth and LG Rodger Saffold] to come back," third-year offensive lineman Austin Blythe said after starting 16 games alongside Whitworth in 2018. "[I] know Whit's put his heart into the game of football for so long, so if he chooses to step away nobody can fault him. He's had a fantastic career, he's played a lot football."
Whitworth's junior of four years and head coach Sean McVay agreed with Blythe after telling a story of discovering the LSU product and father of four getting back to work on a stationary bike at the team's practice facility not 24 hours after falling short of a world title.
"I think that's something where he's certainly earned the right to be able to make that decision," McVay said. "I know that there's a lot of people that are hoping that he does [return for a 14th season], but if not, I don't think you can say anything but what a phenomenal career and what an even more impressive person this guy is being around him."
Two games after picking up his first-career playoff victory in the Divisional round against the Cowboys, Whitworth was provided the chance to find late-career football glory and ride into the sunset as a world champion.
Just before his offensive line took home the Built Ford Tough Offensive Line of the year award at the NFL Honors event the eve of Super Bowl LIII, Whitworth won the NFLPA 2019 Alan Page Community award for his efforts organizing support of those affected by the November fire events in Ventura and Los Angeles county, as well as the Borderline shooting in Thousand Oaks, Calif. He was the Rams' nominee for the Walter Payton Man of the Year Award in 2019.
But now, after falling to the Patriots in the lowest-scoring affair in Super Bowl history — his offense hanging just three points on head coach Bill Belichick's defense — Whitworth appears to be at a crossroads, another year as the eldest Ram protecting a No. 1 pick 24-year-old franchise quarterback as likely early Super Bowl favorites, or a life beyond the game for the player who's dedicated his career to bettering the lives of others outside of football.
"So yeah, I'm disappointed, but I've played for 13 years. I've played almost 13,000 snaps of NFL football. I love the game. I love every bit of it. You're not going to get me to pout and feel sorry for myself," Whitworth said, before putting the game's awards and accomplishments like Pro Bowl selections and Super Bowls victories into perspective.
"Who you are, how you carry yourself, and whether you pout and feel sorry for yourself are the only things that are going to matter, because that is what people are going to remember about you," Whitworth said. "So for me, what means the most is that guys see me hold my head high, confident in the locker room and I'm there for them in any way moving forward."