Over the last two seasons, Rams quarterback Jared Goff has enjoyed throwing to a dependable cast of wide receivers. In 2020, that will be no different thanks to the position's continuity and consistency.
"They're great players that are great people," Rams head coach Sean McVay said last September. "They're as selfless a group as I've ever been around. They play hard for one another, they play hard for their teammates. They compete with and without the ball. It's more than anything, just a reflection of the character that they have. They make each other better. I think (wide receivers coach) Eric Yarber and (then assistant wide receivers coach) Liam Coen do an excellent job leading that room. I've never been around a group that's as special as this one is and you certainly don't take it for granted."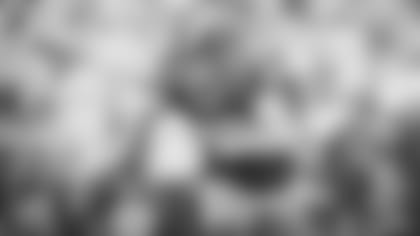 Last season, those efforts were highlighted by wide receiver Cooper Kupp, who led the team with 94 receptions for 1,161 yards and 10 receiving touchdowns – all career highs – while playing in all 16 games this past season. It marked first 1,000-yard receiving season of his career, too.
However, he was not the only one who either set a new career high or franchise record statistically.
Robert Woods posted his second-straight 1,000-yard season, recording 90 receptions for 1,134 yards and two touchdowns. Against the Cardinals in Week 13, he tallied a new career-best with 172 receiving yards. Woods also surpassed 400 career receptions in 2019 and played in his 100th NFL game overall. When it comes to his availability, he's missed only one regular season game over the last two years.
Meanwhile, Brandin Cooks chipped in 42 catches for 583 yards and a pair of touchdowns in 14 games. He played a pivotal role in the Rams' early-season wins over the Saints and the Browns, finishing with three receptions for 74 yards and a touchdown against the former and eight receptions for 112 yards against the latter.
When Cooks sustained a concussion against the Bengals in London in Week 8, Josh Reynolds filled in capably, finishing with three receptions for 74 yards and a touchdown in a 24-10 L.A. victory. He played in all 16 games, collecting 21 receptions for 326 yards. Though Cooks, Woods and Kupp get the majority of the snaps, both Goff and McVay last August said they consider Reynolds a starter.
"I just think the confidence," McVay said in the preseason, when asked about the biggest jump made by Reynolds from last season. "I think he's getting better, really, in all phases."
Although Kupp missed eight games in 2018 to a season-ending ACL injury, Woods has missed only one and Cooks just two over the last two seasons. Reynolds has played in every possible regular season game during that span.
All told, each of the four receivers are under contract through the 2020 season – Woods through 2021 – and will provide Goff and the offense with continuity at a key offensive position.