IRVINE, Calif. – Saturday's open practice at 2023 Rams Training Camp presented by UNIFY Financial Credit Union saw running backKyren Williams continue to show reliable hands as a target in the passing game and defensive back Tre Tomlinson make the most of his increased opportunities.
Here are 10 things that stood out from the session: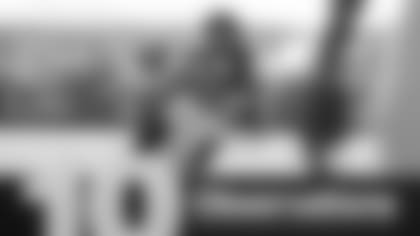 1) Kupp update: Kupp was not dressed out for the second-straight training camp practice, but head coach Sean McVay said that Kupp is "day-to-day" and Kupp's hamstring injury is not "anything to be overly concerned with."
2) Rochell unable to finish practice: An ankle issue prevented defensive back Robert Rochell from finishing Saturday's practice due to an ankle issue. McVay said Rams Vice President, Sports Medicine and Performance Reggie Scott communicated to him that Rochell said his ankle was bothering him.
3) Tre Day: With Rochell exiting practice and Derion Kendrick still not participating, more opportunities were afforded to rookie defensive back Tre Tomlinson. McVay after practice mentioned Tomlinson making a nice play from an off-technique on a slant route to the short field. Tomlinson also had a solid pass breakup on a Stafford pass intended for Demarcus Robinson in 1-on-1s, though Robinson later on those drills got the better of Tomlinson for a touchdown. In team drills, Tomlinson had timely coverage on a Stafford pass intended for tight end Tyler Higbee for a third-down stop.
4) Kyren the pass-catcher: Running back Kyren Williams throughout the week has shown a knack for making plays as a target in the passing game. On one particular play, he picked up a few yards as a check-down target to help quarterback Matthew Stafford escape the pressure of a collapsing pocket.
5) Tip drill: Defensive back Richard LeCounte deflected a pass by quarterback Brett Rypien that landed into the arms of defensive back Quentin Lake, who made the heads-up play for the interception. It added to a strong day for Lake, who also broke up a Rypien pass intended for Robinson for a third-down stop during team drills.
6) Let it Ryp: Rypien bounced back shortly thereafter, though, firing an intermediate touchdown pass to Robinson, who made an equally impressive catch in the endzone.
7) Bruss at right tackle: Originally drafted as a guard, second-year offensive lineman Logan Bruss continued to rep at right tackle behind Rob Havenstein. "I think that's (right tackle) probably where he'll stay for now," McVay said. "He can always potentially bump inside."
8) Snagged it: Rookie wide receiver Puka Nacua made an impressive catch during redzone work, snapping a Stafford pass out of the air for a touchdown quickly before the defensive back in coverage had the chance to deflect the ball or knock it from his grasp.
9) Stafford to Jefferson: One of the best completions of the day was Stafford finding wide receiver Van Jefferson over the middle, with Jefferson making a leaping catch on an off-schedule throw by Stafford.
10) Need for speed: Rookie outside linebacker Byron Young showcased his speed on one play where he stopped a jet sweep as it was heading toward his side of the defense.