IRVINE, Calif. – Thursday's open practice at 2023 Training Camp presented by UNIFY Financial Credit Union featured the most extensive work on game-like situations yet, with plays made in those settings by both the offense and the defense.
Here are 10 things that stood out from the session: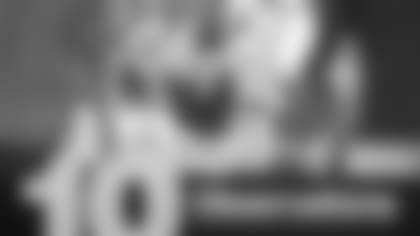 1) Kupp a non-participant: After leaving Tuesday's practice with a hamstring injury, Kupp was not dressed out for Thursday's practice. However, he was still very much involved, spending as much time as possible coaching up the group alongside wide receivers coach Eric Yarber.
2) Skowronek returns: Ben Skowronek was on the field again after missing Tuesday's practice with back soreness.
3) Competitive 1-on-1s: This portion of practice perhaps set the back-and-forth tone for the rest of the evening. Quarterback Matthew Stafford connected with wide receiver Van Jefferson with defensive back Cobie Durant in coverage, but Durant bounced back a few plays later with a pass breakup of his own. Tutu Atwell caught a deep touchdown pass from Stafford with defensive back Robert Rochell in coverage, then a short touchdown pass from Stafford with defensive back Tre Tomlinson in coverage. Rochell bounced back not long after with a pass breakup on a Stetson Bennett pass for wide receiver Puka Nacua; Tomlinson likewise by deflecting a Stafford deep pass down the sideline intended for Jefferson.
4) Offense threatens, until defense comes up big in redzone: One of the best series during situational team drills came when Stafford rifled three-straight completions to Jefferson, Atwell and Nacua to get the offense into opponent territory, only for the drive to later end with a near-interception by linebacker Christian Rozeboom near the goal line to prevent the offense from scoring.
5) Denied by Durant: Durant also had an impressive pass breakup during 11-on-11 work, deflecting a Stafford pass intended for Nakua near the sideline. However, arguably his best one of the day was a leaping-backward pass breakup where he full extended his right arm to prevent a deep Stafford completion to wide receiver Austin Trammell.
6) Denied by Taylor: Rookie defensive back Jason Taylor II likewise came up with a timely pass breakup of his own, denying a Bennett pass intended for Demarcus Robinson in the endzone during team drills that fired up Los Angeles' defensive backs on the sideline.
7) Going up: Tight end Tyler Higbee had one of the best catches of the day when he hauled in a jump ball on a Stafford pass during redzone work for a touchdown.
8) Good day for Hopkins: Tight end Brycen Hopkins made plays across all facets of situational work Thursday. Besides making a nice catch on an intermediate pass from Stafford during team drills, he also was on the receiving end of a Bennett pass that picked up a good chunk of yardage and helped move the ball a 2-minute drill. That same series, he hauled in a shorter pass to keep the drive moving. In redzone work, he caught a touchdown pass from quarterback Brett Rypien.
9) Akers, Williams find the endzone: Running backs Cam Akers and Kyren Williams both scored touchdowns during redzone work, Akers while bouncing to the outside and Williams while punching it in up the middle.
10) Jonah in the backfield: Defensive end Jonah Williams' penetration to blow up a run play at one point during team drills was so good that it drew cheers from his teammates and defensive line coach/run game coordinator Eric Henderson.